Soulsbyville Student Wins County STEM Competition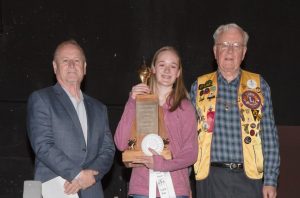 Sarah Bruno Wins STEM Competition

View Photos
Sonora, CA — At this week's STEM Symposium and Expo at the Mother Lode Fairgrounds, a Soulsbyville Elementary student won the top $400 cash prize and will move on to a state competition.
8th grader Sarah Bruno was the top overall winner, followed by Sonora Elementary 8th grader Bailey Johnson and Soulsbyville 8th grader Gregory Crook. Johnson and Crook received $50 cash awards. The financial awards were provided from the Tuolumne County Economic Development Authority and the Sonora Lions Club also purchased ribbons and trophies.
The Tuolumne County Superintendent of Schools Office reports that the event is a spin on the traditional Science Fair that takes place every other year.
Bruno will now compete at the California State Fair in May.
Also of note, the top 7th grade finishers were William Spear and Shea Firth of Curtis Creek Elementary, followed by Hailey Hanson and Jana Norton of Columbia Elementary. The top 6th grade finishers were Emily Parish, followed by Liam Kelly, both of Columbia Elementary.
Community partners that set up tables and provided hands on STEM activities include Sonora High Leadership (Carly Copello and Vicente Redwig), Summerville High Orange Pi Robotics Club, Kinematics, Dan Webster (FIT), HealthLitNow, Water School, Jeff Tolhurst (Columbia College), Tuolumne County Resource Conservation District, Brian Thomas (TCSOS) and the Central Sierra Environmental Resource Center.
STEM stands for science, technology, engineering and mathematics.