CA Bill Proposes Free College Tuition By Taxing Millionaires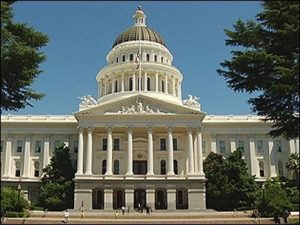 California Statehouse

View Photos
Sacramento, CA — A group of Assembly Democrats have introduced a bill that calls for free college tuition for in-state residents by increasing taxes on wealthier earners.
AB 1356 was introduced by Assemblymember Susan Talamantes Eggman of Stockton, Rob Bonta of Oakland and Shirley Weber of San Diego. It would impact all of California's community colleges and public universities. It calls for a 1% tax on household incomes over $1-million to generate around $2.2-billion annually. The revenue would be deposited into a Higher Education Assistance Fund, created under the bill, so that in-state residents can attend college, tuition free. The authors of the bill claim that from 1969-2015 the median household income in California has only increased by 10%, but the tuition costs at UC schools have increased by 530% and California State University schools by 685%.
Because the proposed bill would increase taxes, it would require 2/3 support of the legislature to become law.