California's Average Gas Price Reaches $3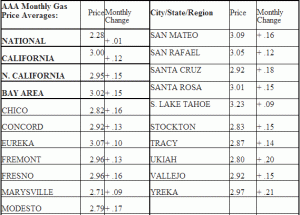 Snapshot of Gas Prices

View Photos
Sonora, CA — Gas prices in California are up by 41-cents from this time a year ago, according to AAA.
Today's average price of $3 per gallon for regular unleaded is up 12-cents over the past month.
John Moreno, spokesperson for AAA of Northern California, says, "Gas prices in California are the highest they've been in nearly four years. While national gas prices are declining, on the west coast, refinery maintenance and the process of switching to summer-blend gasoline is continuing to have an impact on prices."
The national average is $2.28 for regular unleaded, up only 1-cent over the past month.
The myMotherLode.com gas price section notes that regular unleaded is selling in Sonora from $2.63-$2.99, and prices in San Andreas range from $2.77 to $2.95.