Support For Biomass Facilities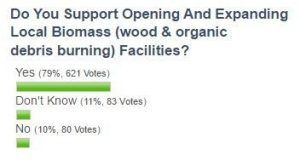 Biomass poll
A recent MyMotherLode informal poll asked "Do You Support Opening And Expanding Local Biomass (wood & organic debris burning) Facilities?" The majority, 79 percent, said yes while only 11 percent said they don't know with another 10 percent against it.
The Pacific Ultrapower Chinese Station (PUCS) near Chinese Camp was closed in November for a major refurbishment maintenance outage. According to its website, the plant opened in October 1986, and is a 25 gross MW biomass plant utilizing wood fuel from forest management operations (such as pre-commercial thinning or dead tree removal), urban construction and demolition wood, and agricultural products such as nut shells and orchard prunings. PUCS is a partnership venture between IHI Power Generation Corp. a heavy industrial manufacturing and services company based in Tokyo Japan, and Jamestown Energy Inc. The power produced by PUCS was purchased by Pacific Gas & Electric under a 30 year Power Purchase Agreement that expired in November. For details on the plant reopening read the news story Open Biomass Plant Will Help Tree Mortality Efforts
As California Senator Tom Berryhill explained here in 2016 "The renewable cap and trade money, and the credits, are so uncertain that we're not going to get more…" in relation to extending the contract with PG&E to purchase the power PUCS made. In September 2016 Gov. Jerry Brown signed SB859 regarding greenhouse gas emissions and biomass that gave the industry hope. The bill called for the Natural Resources Agency Secretary, John Laird, to establish a working group on expanding wood product markets that can utilize woody biomass, especially biomass that is removed from high hazard zones, among other tasks. The working group is due to submit its recommendations for markets and pilot projects by June 1st 2017.