Open Biomass Plant Will Help Tree Mortality Efforts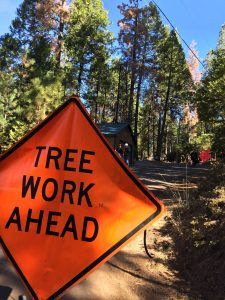 Tree Work sign

View Photos
The Pacific Ultrapower plant in Chinese Camp is back running, which is helping the local tree mortality efforts.
There had been earlier concerns about the ability to process biomass in Tuolumne County, following an extended closure for retrofitting, and an expiring contract with PG&E. Tuolumne County Tree Mortality Project Coordinator Mike Albrecht spoke about it on Mother Lode Views this past weekend.
"After about five months of retrofitting, they (Pacific Ultrapower) have put in a whole new boiler package into it, and lot of boiler tubes. They spent nearly $3-million on the plant, so that tool is now back available to us. A requirement in their new contract is that they have to use a lot of the tree mortality product to even run the plant. This year, in rough calculations, they are going to use about 2,400 truckloads of tree mortality product, which is about 60,000 tons. Over the next couple of years, that will ramp up to over 4,000 truckloads a year that they are required to use under their contract. So, it is really good news for the county. We have a whole lot of room to put biomass. Without that, I don't know what we would do."
Mother Lode Views also featured Ethan Billigmeier of the Tuolumne County Office of Emergency Services explaining new grant money available to private property owners, and CAL Fire Tuolumne-Calaveras Unit Forester Adam Frese speaking about projects that CAL Fire will be helping with over the coming months. Frese also predicted that it will be another very busy fire season in the Mother Lode, as there are many dead trees on the landscape. In addition, Albrecht recapped recent projects, and others that will come over the spring months.
If you missed Mother Lode Views on tree mortality, you can find the entire show by clicking here.