A Jamestown Woman Is Arrested For Domestic Violence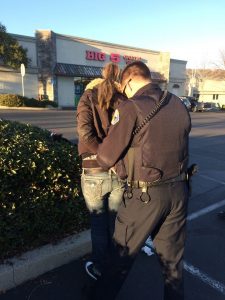 SPD arrest of Misty Gavi

View Photos
Sonora, CA — A woman and her boyfriend got physical at a Sonora shopping center and witnesses indicated she delivered the first blow.
A call came into the Sonora Police Department Wednesday around 4:30 p.m. regarding a fight between a couple in front of the Big 5 Sporting Goods at the Crossroads Shopping Center on Sanguinetti Road. Once officers were on scene, witnesses indicated that the woman, 32-year-old Misty Gavi, got physical first. SPD Lt. Turu VanderWiel reports, "The female reportedly shoved the male into a stack of shopping carts at which point she lost her balance and landed on the ground."
Gavi was arrested on domestic violence charges. Lt VanderWiel says while being booked into the Tuolumne County Jail, a search of her person found an undisclosed amount of methamphetamine on her. Gavi's bail is set at $30,000.