California Moves Closer To Becoming A Sanctuary State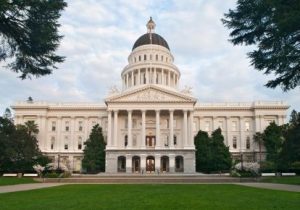 Sacramento Capitol Building

View Photos
This week, a California Senate policy committee approved the "California Values Act" by Senate President pro Tempore Kevin de León (D-Los Angeles) to prevent the use of state and local resources for federal immigration enforcement actions.
Friday's KVML "Newsmaker of the Day" was Senator de León.
"This past week the President has confirmed some of our worst fears," said de León, referring to the Executive Order on immigration enforcement. "President Trump will not focus on criminals, as he promised on the campaign trail. Instead his deportation policy will be a dragnet for thousands, if not millions of hardworking immigrants."
Senator de León said immigration enforcement has been politicized to the extent that "makes Pete Wilson look like a choir boy compared to what is going on today," referring to the former California Governor who in 1994 championed the anti-immigrant Proposition 187.
The Senate Public Safety Committee approved SB 54, by a 5-2 vote after hearing moving testimony from a Southern California college student who was forced to drop out after his father was arrested by a state college police officer and ultimately deported.
Victor Alvarez said his father, Jose, was pulled over for having a headlight out by a California State University, Long Beach campus officer. The campus officer detained his father at the request of Immigration and Customs Enforcement, Victor Alvarez said, and was promptly deported to Tijuana.
In his father's absence, Victor Alvarez said he had to drop out of college and get a job to help support his family. "The whole family is suffering. This has torn many families apart," he said.
Senator de León added that "half my family" would be deported under President Trump's Executive Order because it "blurs the definition of what a serious criminal is" by allowing deportation for petty crimes like having a false identification document.
"Public safety will suffer if local law enforcement loses the trust of the immigrant community or uses its resources to enforce immigration laws instead of focusing on serious felonies," he warned.
"State and local participation in immigration enforcement will come at a serious cost to California unless appropriate safeguards are put in place," he said.
For a detailed analysis of SB 54 see: http://leginfo.legislature.ca.gov/faces/billAnalysisClient.xhtml?bill_id=201720180SB54
The "Newsmaker of the Day" is heard every weekday morning at 6:45, 7:45 and 8:45 on AM 1450 and FM 102.7 KVML.