Officials Weigh 'Wettest January' Against Drought Emergency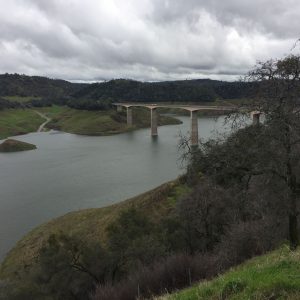 New Melones Reservoir, Jan. 22, 2017
Sonora, CA — As much of the state recovers from a deluge of record-setting wet weather, water regulators ponder whether to extend drought emergency measures.
Over at the California Department of Water Resources, spokesperson Doug Carlson gushes about what, so far, has been a remarkably wet winter across the state. "There is no doubt about it — our eyes tell us that and so do the gauges that we maintain and have monitored for, literally, generations."
Carlson adds, "In the San Joaquin precipitation area [The Mother Lode] for example so far…the rainfall is coming at a rate [nearly 43 inches to date] that even exceeds that the 1982-83 water-year, which is the wettest [year of over 100 years on record] in the San Joaquin region." Over the course of that entire record-breaking water-year, the Mother Lode received over 77 inches.
Current statewide snowpack figures are about 197 percent of average—another remarkably good sign, Carlson comments. "If we were to keep that up, then we would have a historically wet year," he continues. "But of course, all of us living in California know that the spigots could turn off — and maybe already have for all we know – we are not expecting much rain in the next few days."
Rains Bringing A Robust Recovery?
New Melones Reservoir, which currently sits at 68 percent of its historic average and about 40 percent of its total capacity, is looking a whole lot healthier than back in 2015, when drought and water demands drained it to nearly dead pool levels. (For a quick look at footage shot there this past weekend, click here.)
While current precipitation totals are strong and conditions seem primed to deliver what Carlson calls "a much, much better year that we have seen in a generation," he cautions those who rush to hang their hats on what the drought monitor reads. Currently the Mother Lode is shown ranging between abnormally dry to within a moderate drought state. Locally, he points to the fractured rock formations through the Mother Lode that fail to hold ground water very well.
Along with heavily weighing the Golden State's erratic weather patterns, Carlson maintains that regional variables, including those pertaining to groundwater storage, point to the need for careful assessments with regard to the drought. He adds it further makes Governor Jerry Brown's case for making water conservation the California way of life.
Tuolumne County's Take
As the Water Quality Control Board (SWQCB) continues to solicit public comments and feedback from water suppliers ahead of deciding whether or not to extend emergency drought regulations, the Tuolumne County Water District (TUD) stated in its letter to the board that it supports waiting for the results of the April 1 snowpack results are in before making an ultimate decision.
TUD also reported that local watershed precipitation levels are sufficient, due to recent significant storms. The district's water supply, which resets each year based on surface water, mostly sources from the South Fork of the Stanislaus River watershed via a contract with PG&E, which owns Pinecrest and Lyons reservoirs.
The district's position is that local controls over emergency regulations should be sufficient, but that if these continue, water suppliers be allowed to continue self-certifying their own local supplies. TUD additionally opines that, due to this winter's deluge of wet weather, if SWRCB decides to move forward with the parts of Gov. Brown's last drought proclamation that involve permanent consumer water conservation measures that the state should separately address the matter through a state-led public awareness and education process.
Tuolumne County OES Coordinator Tracie Riggs shares her office's concerns about other variables in play related to a lifting of drought emergency measures. She stresses, "One very important component to keep in mind when it comes to TUD's water needs is that they are almost 100 percent reliant upon surface water. Very little of their water — almost none, except during emergencies — comes out of the ground."
Thousands On Wells, Some Still On Deliveries
Detailing her concerns Riggs states, "Unfortunately, we have thousands of homes who do not or cannot receive water from TUD and are 100 percent reliant upon ground water. To complicate it even further, we do not have a ground water basin in Tuolumne County…we sit on rock/granite and it is only through the fractures…that we are able to get water for our wells."
Not only do the rock formations cause well outputs to vary greatly from one well to another, fractured rock is known to recharge at a much slower rate than ground water, a process that can take up to two years. Riggs points out that, while the surface water and ground water basins might have exceptional recharge, fractured rock may well not. "We are still delivering water to over 100 homes [with failed wells] a month," she states.
Summing her thoughts, Riggs says, "Even though we have had a lot of rain and snow — especially compared to the last five years — we must realize and acknowledge that it may take some time for the wells in our county to experience a recharge. The homes receiving water deliveries have no other options."
Calaveras Chimes In
In its comments letter to the SWQCB, Calaveras County Water District (CCWD) echoed several of TUD's sentiments favoring ending the drought emergency regulations. The district sources its primary supplies from the Stanislaus, Calaveras and Mokelumne river systems that include the New Spicer Meadow and New Hogan reservoirs. Rosily pointing to current precipitation data, CCWD maintains that it reflects a significant local water surplus, versus a drought state.
Although the district acknowledges lingering drought impacts, it also highlights directed regional efforts towards sustainable water use that have made districts including CCWD more drought-resilient than five years ago. Locally, CCWD alluded to its continued customers' conservation measures and efficiency programs, as well as improved integrated management and regional stewardship efforts.
CCWD also opined that stress tests of water suppliers should remain the proper means to determine which districts and regions are ready to handle future drought impacts. Since passing the required stress test last May, CCWD reports it is on track to meet or exceed its conservation objective and customers are continuing to conserve an average of 15 percent, which exceeds the district's assigned 2015 mandate.
Currently set to expire Feb. 28, the emergency drought regulations may well be extended by the state board. After reviewing all of the comments, staff is shortly expected to release a formal proposal next week, with board action slated for Feb. 7.