Study Shows Fall Flows Down The Stan Could Be Halved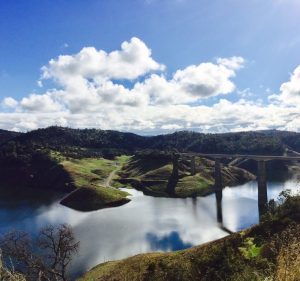 New Melones, Jan. 5, 2017, ahead of weekend weather episode.

View Photos
Sonora, CA — The volume of water being flushed down the Stanislaus River for fall fish flows can effectively be cut by half.
So says a recently released long-term study by researchers from FISHBIO in Oakdale that focused on the fall pulse flows and their impact on adult salmon migration. The findings point out a clear need for reassessing the allocation to better balance beneficial use of the Stan's limited water supply.
Published in the North American Journal of Fisheries Management, FISHBIO's work focused on daily fish migration upstream through a weir, a fence-like structure through which the fish must pass. In the process each is photographed via infrared silhouette. "We used 11 years of daily salmon counts and related that back to environmental conditions in the river and management actions that have been happening for the fall pulse flows," explains study co-author Andrea Fuller.
Testing The Status Quo
"It is the first time that such a study has been conducted in the Central Valley and these pulse flows have been occurring since 1992, so it was certainly time to evaluate whether or not they were working," Fuller shares.
"Historically, salmon were known to come upstream with the first rains. With dams, much of that water is now captured instead of flowing on downstream. So pulse flows in 1992 were implemented to mimic natural runoff events from rain on an annual basis," she continues. "Then in 2009 a biological opinion for steelhead was released, and that required even more water to be released to the river in the fall period, to promote upstream migration of salmon and steelhead."
FISHBIO's is the first study to address and examine in detail how the salmon were responding to that management protocol. It turns out that the prescribed releases of 1,200-1,500 cfs (cubic ft per sec) — as required by the biological opinion — were no more beneficial than ones at 700 cfs, which also happened to be the lowest level flows measured.
News The Feds Will Use?
The results also reinforce the position of the Tri-Dam Project partners, the Oakdale (OID) and South San Joaquin (SSJID) irrigation districts, senior water rights holders who funded the research. The partners, which developed New Melones Reservoir, work closely with the Bureau of Reclamation, which as part of its Central Valley Project, manages the fish flows at New Melones Dam.
This information comes in the wake of a request for a new biological opinion process from the Bureau and Department of Water Resources to the National Marine Fisheries Service, which just reopened the biological opinion process for the entire Central Valley and state water projects operations.
"We are really hopeful that these results will be used in fine-tuning the new requirements," Fuller shares. Addressing the potential for being labeled as "alternative facts" by those who might question the study — since Tri-Dam paid for it — she points to solid methodology and sufficient data points.
"One of the criticisms that we often get is 'you are paid by the districts to do these studies'," Fuller laughs. "After 20-plus years of working for the irrigation districts I have never really felt that way…I have always been able to share our findings openly — and sometimes I have had to give them some news that they really did not want to hear."
Making A Case For Melones
Coming off a recent deluge of wet winter weather, Fuller points to other reservoirs that had to go into flood control operations. "Granted, New Melones is quite a large reservoir but we are nowhere close to getting back out of the danger zones, as you can say…our storage is still quite low," she states. Even with a few of what she describes as "bang up" water years — just one dry year paired with ongoing heavy water demands — can doom Melones' levels to a low scenario for several years in a row.
"Had we curbed those releases, it really could have helped with the storage situation in New Melones — and we have shared these findings with the fisheries agencies that are making the decisions on the Stanisalus," Fuller confides. Through the process to update the biological opinion, she hopes FISHBIO's work and other collaborative input might help determine a scientifically-based solution to better serve multiple benefits along the Stan.
Too, she adds, "Hopefully we will have the opportunity for a study element where we are able to potentially study a year in which we do not have a pulse flow to further refine the flow prescription." As severe as the recent drought was, Fuller held hopes that the government would allow a year without a pulse flow to determine if the lowest threshold for salmon is 700 cfs — at the bottom of what was tested — or whether it could be something even less.
Spring Flow Study In The Wings
Monitoring is ongoing for another long-term study, Fuller says, which will address the spring fish flows. She demurs when asked as to whether any solid findings are yet obvious from that project.
"We [now] have 'a very highly variable environment' as compared to the recent drought…from low flows during the spring, trying to conserve water — to flood control releases on many of our rivers," she chuckles. She alludes to the recent erratic weather as just another example of the multi-variable factors that must be considered, further illustrating why long-term monitoring is necessary.
As previously reported here, the State Water Board is now focusing on gathering comments regarding its current proposal for the San Joaquin Basin, which seeks to increase spring fish flows for the supposed benefit of baby salmon migration downstream. Public comments are due by March 17.