Comments Still Incoming On New Melones 'Over-allocation' Plans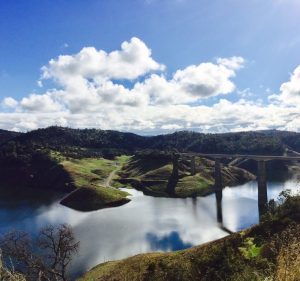 New Melones, Jan. 5, 2017, ahead of weekend weather episode.

View Photos
Sonora, CA – As current wet weather increases inflow at New Melones and other state reservoirs, a public response period extension is giving folks more time to add their thoughts to a controversial water agency proposal.
Last fall, Tri-Dam Project partners, the Oakdale Irrigation (OID) and South San Joaquin (SSJID) irrigation districts, which developed and maintain the Donnells, Beardsley and Tulloch water projects on the Middle Fork of the Stanislaus River, led resistance efforts against a proposed plan by the State Water Resources Control Board that would dramatically increase water releases from the Stan and two other rivers, purportedly for the primary benefit of salmon habitat.
OID General Manager Steve Knell points out that during a December public hearing on the plan Tri-Dam, in concert with the Bureau of Reclamation, presented an alternative solution that would both protect the fish and conserve precious water resources for multiple benefits instead of flushing them downstream. He also reports that public outcry in the form of over 500 letters from a Save the Stan campaign has resulted in the water board agreeing to solicit public comments until March 17. Too, he adds with hopeful optimism, Governor Jerry Brown is adding pressure by requiring that the board settle related river basin issues with stakeholders in a timely manner.
Melones: A 'Worst-looking Reservoir' Shoo-in?  
New Melones, currently sitting at 51 percent of its historic average for this time of year and 29 percent of its total capacity, and Lake Perris, located in the southern terminus of the California State Water Project near Moreno Valley, remain by far the lowest of the state's 12 major reservoirs under constant monitor. (Click left image box for the latest pictorial graph as well as an image of Melones at 46 percent of historic average, ahead of this past weekend's rains). Perris levels are currently reported at 47 percent of historic average and 37 percent of its total storage ability.
"Melones is in bad shape, storage-wise. When you look across the state…it is the worst-looking reservoir in the system," Knell comments wryly. Chief among the reasons, he maintains, is because Melones is severely over-allocated with demands downstream that well-exceed the inflow. "You essentially pull down storage each and every year, more so than the other reservoirs…you cannot continue to do this — so as a result of these four years of drought…Melones just fell off the face of the earth as far as storage."
If significant changes are not instituted to the water board's way of managing project resources — according to a biological opinion established back in 2009, before the latest drought — and without more comprehensive consideration of multiple other variables such as local economic impacts, Knell says, "We are going to be dealing with almost like regulatory drought from here on out."
Most Reservoirs Reading Above Average
Besides New Melones, the only major Northern California reservoir below 100 percent of its average for January is Trinity Lake, northwest of Redding, currently at 78 percent of its historic average and 53 percent of capacity. In contrast, Lake Don Pedro currently comes the closest of the state's half-dozen northern region reservoirs to achieving somewhere near capacity levels; its levels now reportedly at roughly 80 percent of its total storage — and 120 percent of its historic average.
In other regional numbers, Lake Shasta, also riding at 120 percent of its historic average is listed at 76 percent of capacity. Folsom Lake's respective readings are at 104 and 51 percent; Lake Oroville is at 102 and 64 percent; and Lake McClure reported at 106 and 48 percent.
Members of the public who would still like to weigh in on the water board's proposal may read more on its website (click here). Hard-copy letters may be directed to Jeanine Townsend, Clerk to the Board; State Water Resources Control Board, 1001 I Street, 24th Floor, Sacramento, CA 95814-0100. They may also be faxed to 916 341-5620. Comment letters may be submitted electronically via e-mail at commentletters@waterboards.ca.gov. Those submitting this way are asked to indicate in the subject line: "Comment Letter – 2016 Bay-Delta Plan Amendment & SED."
For more details on the Save the Stan's position, which also offers quick links to send an e-letter, click here.