Oliveira To Lead Calaveras Supervisors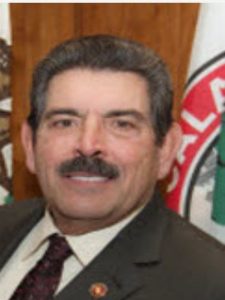 Michael Oliveira

View Photos
San Andreas, CA — The Calaveras County Board of Supervisors elected a new chair and vice chair for 2017.
There are four newcomers on the board, Gary Tofanelli in District One, Jack Garamendi in District Two, Dennis Mills in District Four and Clyde Clapp in District Five (Tofanelli had previously served up until four years ago).
The only holdover is Michael Oliveira in District Three. Citing tenure, the Supervisors voted 4-1 in favor of Oliveira to serve as chair. The lone vote in opposition was from Clapp, who argued that the recent election served as somewhat of a referendum against the past board, so he wished to see one of the newcomers serve as chair. A member of the audience argued the point that last year the Board of Supervisors voted to bypass former District Two Supervisor Chris Wright when electing a chair, who was next on the tenure list, and instead picked Cliff Edson to serve a second consecutive year. The audience member recommended that Garamendi be picked as chairman, so District Two would not be slighted. The Supervisors instead voted Garamendi as vice chair, with a 5-0 vote.