GOP: Expanding Our Nation's Mental Health Workforce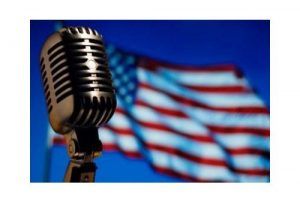 Microphone and US Flag

View Photos
Rep. Tim Murphy (R-Pa.) used this week's Republican address to highlight the importance of mental health reform using the story of the Sandy Hook shooting.
Murphy was Tuesday's KVML "Newsmaker of the Day". Here are his words:
"This picture means so much to me. I keep it on my desk in my congressional office. It was given to me by a proud parent. This is Daniel. Daniel—just seven years old—was at Sandy Hook Elementary School on December 14, 2012, when a troubled young man took his life and those of 25 others, and ultimately his own.
You know, if there's one thing we cherish at Christmas, it is the comfort and joy of being surrounded by the people we love. But every day, 959 lives are taken—directly or indirectly—by mental illness. Last year alone, 350,000 lives were lost because our broken mental health system continues to fail American families. Rather than getting those who need help most into treatment, we leave them out on the streets or throw them in jail. This is heartbreaking—and it's unacceptable.
As a practicing psychologist, I have seen firsthand how difficult it is for families to navigate our broken mental health system. Outdated laws prevent the families and caregivers from being a part of the treatment team—too often this has fatal consequences. We need treatment before tragedy, and care before crisis.
After Sandy Hook, we launched an investigation into our nation's broken mental health system. Courageous families stepped forward to tell their stories. And we started to understand the real problems—over 110 federal programs and a $130 billion investment that did little but stand by and watch rising rates of suicide, incarceration, and homelessness. But we needed to do more than just talk about this problem. We needed to start solving this problem.
By the start of 2016, we had pushed mental health reform towards the top of Washington's to-do list. And last week, one day before the Sandy Hook anniversary, President Obama signed into law the most significant mental health reform in 50 years. With this new law, we are finally breaking down the wall between physical health and mental health.
Now federal agencies will be moving from vague feel-good programs to ones that emphasize evidence-based care for those at the highest risk. For the first time, there will be an Assistant Secretary for Mental Health and Substance Use who will lead the way, evaluating and improving the system.
We'll be investing in services for the most difficult-to-treat cases and ensuring that family members are a part of the care delivery team.
We'll be training people to recognize the signs and symptoms of mental illness, including law enforcement officers for how to best respond to a potentially violent situation.
We'll be providing real resources to combat substance abuse, and specifically for the opioid crisis.
We'll be addressing, head on, the number 10 killer in our nation—suicide, which disproportionately affects our veterans; and for the first time ever, Congress is stepping in to help those with an eating disorder get access to real medical care.
And we'll be expanding our mental health workforce, because today, half the counties in America do not have a single psychologist or psychiatrist.
One bill won't solve everything, but these desperately needed reforms will bring help. And where there is help, there is hope.
To the Sandy Hook families and all those who made this possible, who gave their time and took a stand, thank you. To anyone out there struggling, looking for answers, know that you are not alone. We are with you. We are fighting for you.
Although many doubted we would make it this far, here we are. And in a new year, with a new administration, we will keep working to get real treatment to those who need it.
This is what Christmas is all about: peace, goodwill, and above all, love. So God bless our caregivers, our doctors, our nurses. And God bless our troops, their families, and the nation they serve. And God bless the United States of America."
The "Newsmaker of the Day" is heard every weekday morning at 6:45, 7;45 and 8:45 on AM 1450 and FM 102.7 KVML.