Veterans Organization Awarded Elaine Symons Baker Community Impact Award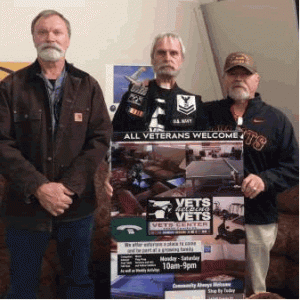 Robert Ozbirn, Russell Carpenter and Mark Kraft

View Photos
Sonora, CA — A local veterans group received a surprise $10,000 holiday gift from the Sonora Area Foundation.
The group Sonora Vets Helping Vets is the 2016 recipient of the Elaine Symons Baker Community Impact Award. It is given out annually to a non-profit organization in the memory of Elaine Symons Baker, who along with her brother Irving J. Symons, founded the Sonora Area Foundation. Vets Helping Vets President and founder Russell Carpenter received the award this week from SAF Board members Robert Ozbirn and Mark Kraft.
Sonora Vets Helping Vets provides several services for local veterans, active service members, and their families. We reported this past August that the group also opened a recreation center off Tuolumne Road in the Cuesta Court cul-de-sac.
The Sonora Area Foundation was incorporated in 1989 and has awarded community grants exceeding $23.5-million since its inception.