Sonora's Vets Helping Vets Opens Center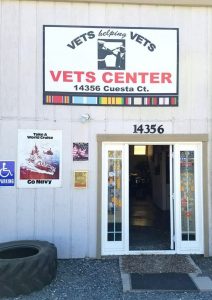 Vets Center Entrance

View Photos
Sonora, CA — Tonight the community is invited to grab a burger and check out a new gathering place created by and for military service vets, their families and the community.
Located off Tuolumne Road in the Cuesta Court cul de sac across from its namesake nonprofit thrift store, the volunteer-built Vets Helping Vets Rec Center is the brainchild of Russell Carpenter, a 16-year Sonora resident and disabled Vietnam Navy veteran. With some big ideas and a $10,000 grant award from Sonora Area Foundation six months back, Carpenter leased and began tricking out the space, augmenting its resources both with items and proceeds from the thrift shop as well as other donations.
Among the vocal volunteers is Michael Cowley, an Army vet and self-described Twain Harte hometown boy. Chuckling, he states, "Russell decided to build it and they will come. We just appreciate getting the word out — if they know about it, they will come…it's just a place to hang out…no agenda." He adds, "We have to look out for the veterans…give them a place to come where they can relax and be themselves. It seems to help vets when they are with other vets…you get a calmness…especially combat vets."
Carpenter recounts that it was about ten years ago, as he was suffering with throat cancer that he was also diagnosed with post-traumatic stress. While receiving therapy and becoming part of the supportive network he realized that vets are sometimes the best therapy for other vets. So, over the past few years, as the thrift shop continued to grow, the idea did, too.
A Well-appointed Place To Hang Out, Have Fun 
Among the new center's impressive amenities is a full gym with donated equipment; a competition-level pong pong table; a pool table, some flat screen tvs and an inviting family room space; two computer work stations with internet interface; also a full band set up with guitars, drums, keyboards, and a sound system. (For a look at the facility's offerings, click the slideshow in the left image box.)
"It is amazing how many vets from the Vietnam era who know how to play guitar," Cowley laughs, adding that his own son likes to come out and play sax during the Wednesday night jam sessions with what he loosely dubs "The Vets Helping Vets House Band," open for anyone to sit in and play.
The facility, which Cowley says is about 3,500 square feet, will take about $2,000 a month to operate, which includes rent, cable and internet. Carpenter pays for the expenses from the thrift store across the way as well as through donations, including from a current monthly angel sponsor. In addition to cash donations, Carpenter jokes that in order to keep the center going strong the thrift store will take anything from household cast offs to "cars, homes and jet airplanes — if we can sell it we will take it."
The center, open to the public Monday through Saturday from 10 a.m. until 10 p.m., is located at 14356 Cuesta Court. Tonight, Cowley says he anticipates someone will be serving up burgers until around 7 and that the band will be playing as well. For more details about Sonora Vets Helping Vets, click here or call it at 536-1436.