Suspects Sought In Arnold Shooting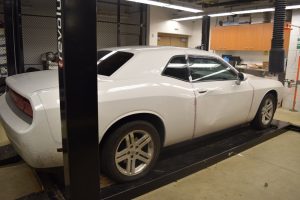 Victim's vehicle

View Photos
Arnold, CA — A man was shot while standing by his car on the shoulder of Highway 4 but is not cooperating with detectives' investigation into the incident.
On Thursday around 1:45 p.m., Calaveras County Sheriff's investigators responded to the Ebbett's Pass Fire Station where the victim had been taken after the shooting.  Detectives found, 33 year old Robert Allen Hilton Jr. with a gunshot to his upper torso.  His passenger and witness to the shooting, 48 year old Lamir Anthony Amma, claimed to be driving from Oakland to the Sacramento area.  Both are from Richmond, California.
Amma told investigators that he was asleep in the vehicle and woke up to the sound of two to three "tap" noises and saw a grey sedan fleeing the scene. He got out of the car and found Hilton shot. Amma dragged him into the vehicle and drove towards Arnold for help. Detectives report Hilton was alert but uncooperative during questioning.  Additionally, neither had an explanation as to why they were in Calaveras County. Hilton was taken by ambulance to an area hospital for treatment. Sheriff's officials say he is listed in stable but critical condition.
Upon further investigation, deputies could not find the shooting site, which Amma described as a 10 minute drive from Arnold where "trees are not as tall." Sheriff's officials describe the suspect vehicle as an unknown make and model 1990's grey car. Hilton was driving a white 2011 Dodge Challenger bearing a Georgia license plate, pictured in the upper left-hand image box.
No description was given for the alleged suspect. Anyone recognizing Hilton, Amma, their vehicle, or has information regarding the shooting is asked to call the Calaveras County Sheriff's Office Anonymous Tip Line at (209) 754-6030 or the Sheriff's Office business line at (209) 754-6500.