Progress Continues On SRMC's Cancer Center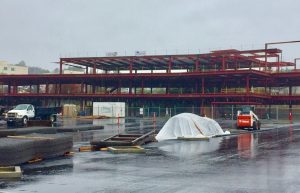 Rainy morning at SRMC's cancer center construction site

View Photos
Sonora, CA — Construction of Sonora Regional Medical Center's new outpatient pavilion and cancer center is "on-time and on-budget" according to CEO Andrew Jahn.
All of the steel infrastructure is in place (455 tons to be exact) and crews this week were prepping to pour the flooring. Jahn says, "We're anticipating a completion date of mid-summer next year, with a ribbon cutting and move-in come August. There are some contingencies built into that timeline, and based on the qualifications of our contractors, I'm pretty optimistic we'll hit that move-in date."
The City of Sonora continues to plan for the needed expansion of the Mono Way and Greenley Road intersection in correlation with the cancer center project.
Jahn adds, "We've done our portion of the paving and infrastructure improvements that are going to align with the new intersection. The City of Sonora and municipalities that are involved in that intersection expansion have committed to having the project completed prior to our (cancer center) move-in date, and I'm told they are on schedule to achieve that. We're excited about the improvements."
Sonora City Administrator Tim Miller tells Clarke Broadcasting that design work for the intersection improvements are being finalized by an outside firm. He anticipates the city will send the project out for bids during the second city council meeting in January and a contract should be awarded around March. Construction would then likely start in April. Miller could not comment on the city's negotiations to purchase the needed Corner Gas property, citing confidentiality rules, only to say that talks are "progressing and ongoing."
SRMC is also continuing work to improve its emergency room at the main campus. Jahn shares that three new (echo-cardiogram) rooms are now online, and within the next couple of weeks, the main lobby should be back to normal. By the end of January, nine treatment rooms should be completed and operational. The end result will be an expansion of the ER footprint by approximately 50-percent.