La Niña Dampens Aid Of Past And Future Rain To Ease State Drought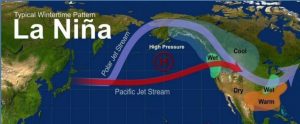 2016 La Niña

View Photos
Sacramento, CA – California's Office of Emergency Services (Cal OES) warn residents not to put too much stock in the recent wet weather and this week's coming rainfall insisting that California is still very dry.
Cal OES reports that La Niña, the female version of El Niño, is in full swing. It occurs when ocean temperatures near the equator of the Pacific are below average. That means instead of having warm conditions in a particular part of the Pacific, like last year, the water is cooler than average, according to Cal OES officials. They add that can influence weather patterns in the US and around the world. It also increases the chance that winter will be drier and warmer in the southern US, but the northern half of the country will likely to be colder, wetter, and therefore, snowier than normal.
Sounds good – Not so fast indicates Cal OES, which reports for California, La Niña could cause drier conditions that will likely persist throughout the winter, which is not good news considering the state has been in a lingering drought for the past five years. Although, recent storms soaked the northern part of the state and raised reservoir levels, most of the state remains in a drought.
According to the National Oceanic and Atmospheric Administration (NOAA), there's a 55 percent chance La Niña will stick around through winter and may not totally fade out until spring. With that in mind Cal OES reminds conservation is the key and provides these water reducing usage tips:
Fix leaks
Recycle indoor water & use it for plants
Install a high-efficiency toilet
Turn off water when brushing teeth or shaving
Wash full loads of clothes & dishes
Shower for only 5 minutes or less