T.U.D. Approves CEQA Exemption For Fuels Reduction Project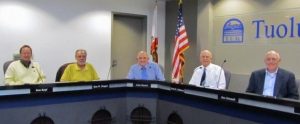 T.U.D. Board (Ron Kopf, Ron Ringen, John Maciel, Kent Johnson and Jim Grinnell)

View Photos
Sonora, CA — The T.U.D. Board of Directors voted to approve a CEQA notice of exemption for a multi-agency fuel reduction project.
The planned Lyons-South Fork Watershed Forest Resiliency Project is a collaborative effort between TUD, PG&E, the Forest Service, SPI and the Highway 108 FireSafe Council. TUD is the lead agency, and a grant application has been submitted to the Sierra Nevada Conservancy to potentially fund the work.
The 202 acres of property in the project lies on both sides of the Tuolumne Main Canal near Lyons Dam. The main canal is the primary conveyance of drinking water supply to around 90% of the population in Tuolumne County, so a wildfire in the area could have very negative impacts.
Fuel management projects that will not impact threatened or endangered species, or result in significant erosion or soil sedimentation, can be exempt under CEQA. The decision was unanimously approved by the board of directors with a 5-0 vote.