Huge Scores To End The Season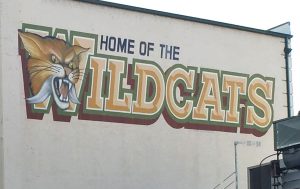 Wildcats Logo Sonora High School

View Photos
A big win and a crushing loss in week eleven of the high school football season with the Wildcats undefeated heading into the playoffs.
The Sonora High Wildcats capped the league season with a 48-13 win over the Bret Harte Bullfrogs.  Sonora's Kane Rodgers opened the game with a 42 yard touchdown in the first quarter. Rico Sanchez had a beautiful interception on his own sidelines with the Bullfrogs deep in Wildcat territory. Bradley Canepa smashed in a touchdown run from 5 yards out, but the point after was blocked. The Bullfrogs struck back with an 18 yard touchdown and the score at the end of the first quarter was 13-7 Wildcats.
In the second quarter, Kane Rodgers scored from 9 yards and added another 4 yard touchdown run. The Wildcats failed on their first two-point conversion, but Josh Harris punched in the second two-point try and Sonora led 27-7 at halftime.
Sonora opened the third quarter much like the rest of the game with Bradley Canepa scoring on a 2 yard rush. Joseph Kraft of the Bullfrogs added another 39 yard touchdown, but that would be all the scoring for Bret Harte. While Harris had an 8 yard touchdown run at the end of the 3rd quarter to put the Wildcats up 41-13.
Harris added another score in the 4th on a 32 yard scamper and Sonora closed out the game victorious 48-13 ending their Mother Lode League season (MLL) 6-0.
Post season brackets will be out tomorrow evening and the Wildcats will know who they face. Due to the Federal Veteran's Day holiday, the game will be played Thursday, November 10 at 7pm.
In Bear County, Gene Watson once said, "turn out the lights, the party is over." This verse rings true for the Summerville football season, as the Bears finish 4-6 for a second straight year after a 63-6 loss to Amador. Summerville had no answers for the speed of the Buffalo's as they rushed well over 200 yards and proved how and why Big Blue is 9-1 on the season.
Summerville will be watching five of their division rivals compete in the playoffs this post-season. A record season for the MLL as the defending champions the Sonora Wildcats go undefeated.  Among the challengers is Calaveras, Bret Harte, Argonaut and Amador as all fight to become this year's section champion. Summerville and Linden will try and improve over the long off-season and get ready for next fall. Although this season is over for the Bear's, the future is bright. JV quarterback Michael Litzler will be on varsity team next year along with Octavian Hernandez. These two players were absolutely clutch throughout the season and could possibly bring more excitement and more wins to the Summerville program in 2017.
Calaveras put up big numbers as they beat Linden 45-3.
*Brandon Steele and Mark Ferreira contributed to this report