GOP: We Will Cut Down On Needless Regulations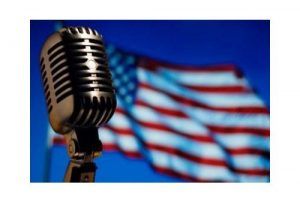 Microphone and US Flag

View Photos
Rep. Kevin Cramer (R-North Dakota) delivered this week's Republican address and discussed cutting down on government regulations.
Cramer was Tuesday's KVML "Newsmaker of the Day". Here are his words:
"Hi, I'm Kevin Cramer. You know, everyone loves to celebrate success. And that's what I am doing today as I speak to you from Grand Forks, North Dakota, where the University of North Dakota College of Engineering and Mines has just dedicated a cutting-edge collaborative energy research complex. This center will bring students, faculty, and industry professionals together to develop better strategies for the next level of energy production in oil, natural gas, coal, wind, and biofuels.
Our state's "all of the above" energy policy has elevated North Dakota's economy to the top in the nation. At the same time, we enjoy the cleanest ambient air quality in the country. And we've proven that a strong economy and responsible environmental stewardship can go hand-in-hand. And with this same approach, other states can achieve North Dakota's economic success.
Yet as I travel around our state, I hear from people frustrated with how needless regulations out of Washington are making things tougher—for their farms, their ranches, and their small businesses. People feel the system is working against them, no matter how hard they work, no matter how much they plan.
This is always my cue to hold up this Better Way booklet and share the bold agenda that Republicans have for a more confident America. It contains more than 100 ideas to get our economy back on track, many that have worked for us right here in North Dakota.
Our plan is based on the notion that the best way to restore our prosperity is to tap into the talents and aspirations of our people and then get out of their way and let them be successful.
We will cut down on needless regulations. To do this, we want to require a vote in Congress before any major regulation can take effect. Unelected bureaucrats should not have the final say—the people and their representatives should.
And we believe that there should be a cap on the amount of regulatory costs Washington can impose each year.
Our plan promotes reliable and affordable American energy, enhancing our global competitiveness. North Dakota has been a leader in our country's energy boom—let's continue to connect this success to the consumers and workers who benefit from it most. And no more Keystones—no more of these endless delays that hold up jobs and projects indefinitely.
This is truly a better way—far better than the path our country is on now. You know, over the last eight years, President Obama has led a regulatory onslaught the likes of which we have never seen. In fact, this administration is on pace to make this the "busiest regulatory year in history," and it won't even be close. In the works are everything from regulating overtime pay to retirement planning.
And what do we have to show for this? This has been the slowest economic recovery since the Great Depression. People are working longer hours for less. We are not bouncing back because big government is in our way.
Our plan offers a better path—an inspiring path—so we can have more success stories and more comebacks. I encourage you to learn more about these Better Way ideas by visiting better.gop."
The "Newsmaker of the Day" is heard every weekday morning at 6:45, 7:45 and 8:45 on AM 1450 and FM 102.7 KVML.