Female Fugitive Arrested In Groveland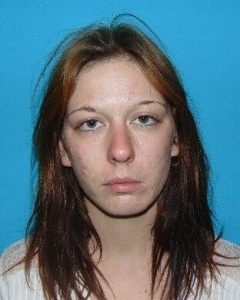 Chelsey Hogue

View Photos
Groveland, CA – A "Be On The Look Out" posting by Tuolumne County Sheriff's Department resulted in the arrest of an alleged robber who had eluded deputies for nearly four days.
A neighbor recognized Chelsey Hogue, 22, as one of two people staying in a home in Groveland and alerted sheriff's officials on Thursday. As reported here, Hogue was wanted for robbery, assault and drug possession stemming from an incident at a store on Monday where she was arrested but escaped from the back of a patrol car.
Acting on the tip, deputies along with K9 "Beau" responded to a home on the 20000 block of Moran Drive but were unable to locate her. However, one of the deputies spotted Hogue and a man at another home nearby. A deputy had to threaten the use of the dog before she and Nicholas Scialabba, 26, from Sonora would come out of the house.
Further investigation revealed that the unoccupied home had been broken into and burglarized. A search of the pair netted property from the residence.
The two were booked into the Tuolumne County Jail for burglary and possession of stolen property. Hogue's bail is $70,000 while Scialabba's is set at $50,000.