Snoozing Sonora Driver Awakes To Drug Arrest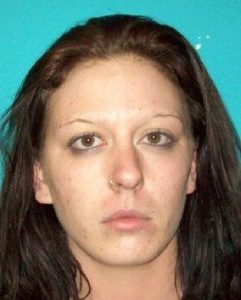 Chelsea Hogue, Tuolumne County Sheriff's Office Booking Photo

View Photos
Sonora, CA — Early Tuesday morning, a 21-year-old Sonora driver reportedly catching some shut-eye in a parking lot off Mono Way woke up to a bench warrant arrest and felony drug bust.
Tuolumne County Sheriff's spokesperson Sgt. Andrea Benson states that around 3:30 a.m. Deputy Tim Wertz found a female driver asleep behind the wheel of a gray Lexus that had been pulled into a 1300 block of Mono Way parking lot. "When he approached the vehicle, he could see a glass smoking pipe with a white substance residue and numerous lighters in the passenger's seat," she recounts. Providing further details, she adds that Wertz knocked on the window to wake the driver, who identified herself as Chelsea Hogue. A subsequent identity check determined she was wanted on a misdemeanor failure to appear warrant for a trespassing charge.
After Hogue was arrested and placed into the patrol car, K-9 Justice, who had been called to perform a sniff on the vehicle, alerted to the presence of narcotics. A car search turned up nearly 32 grams of methamphetamine and over 13 grams of marijuana as well as packaging materials.
Hogue was then booked into the Tuolumne County Jail on the failure to appear misdemeanor, as well as for possession and transportation of a controlled substance for sale. She remains in custody on a $40,000 bail.