Mariposa Grove Prescribed Burn Planned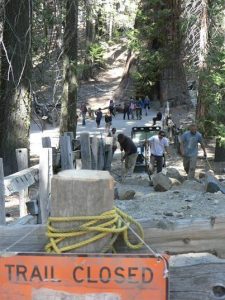 Mariposa Grove Restoration Project

View Photos
Yosemite, CA — When weather and air quality permit, Yosemite National Park will ignite a 137 acre prescribed burn over the coming weeks.
The Mariposa Grove prescribed fire will take 2-3 days to ignite, with an additional 7-14 days of active burn down. Smoke will noticeably be visible in the Wawona area. The Mariposa Grove is in the midst of a wide scale improvement project, so Yosemite officials want to do the project while the grove is currently closed. Burning in the Mariposa Grove is an ongoing effort and multiple prescribed burns have occurred in that area over the past 30 years. Fire produces the optimum conditions for Giant Sequoia reproduction and propagation, according to park officials.
Historically, natural fire burned an average of 16,000 acres annually in Yosemite National Park and played an integral role in shaping Yosemite's ecosystem. However, due to decades of fire suppression, many areas have become overgrown, unhealthy, and increasingly vulnerable to catastrophic wildfire.