Supervisors Approve $2-Million For Greenley Widening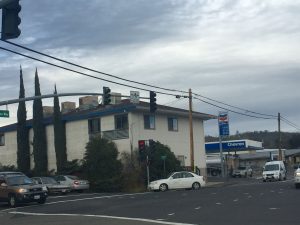 Corner Gas at the intersection of Greenley Road and Mono Way

View Photos
Sonora, CA — The Tuolumne County Board of Supervisors formally voted to transfer $2-million in traffic impact mitigation fee funding for the widening of Greenley Road near the Mono Way intersection.
We've reported previously that the $3.4-million project is a joint effort between the city and county, with the city agreeing to cover the remaining costs. Included in the agreement approved today is that any excess property acquired, not needed for the widening, will go to the county. The property could carry a value of around $300,000. In order to move the project forward, however, the city must still acquire the Corner Gas property at the intersection. City Administrator Tim Miller provided an update to the Supervisors, saying, "The city has extended an offer to the property owner and we are awaiting his comments on the offer and the purchase agreement. Our right-of-way consultant is in the process of arranging a followup meeting with the property owner to discuss his position with respect to that initial offer. We hope to be in possession of the property prior to the end of the year so that we can do whatever demolition is necessary to accommodate the roadwork."
Miller noted that construction plans and documents should be finalized by the close of 2016 with the project going out for bids shortly after, construction taking place in winter or spring, with a completion by late next spring or summer.
There is an urgency to get the project completed with Sonora Regional Medical Center currently constructing its new Cancer Center near the intersection. Today's Board of Supervisors action to transfer the funding was approved 4-0 with District One Supervisor Sherri Brennan absent.