GOP: 'A Better Way' Will Reform Government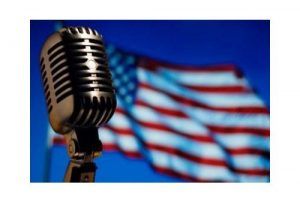 Microphone and US Flag

View Photos
Rep. Keith Rothfus (R-Pennsylvania) delivered this week's GOP address to talk about the party's a BetterWay agenda and how it would reform the government in celebration of Constitution Day.
Rothfus was Tuesday's KVML "Newsmaker of the Day". Here are his words:
"By listening to the American people, Republicans have developed a positive agenda to get our country back on track. We're calling it A Better Way.
A Better Way would not only restore American leadership in the world, it would generate a healthy expansion of our economy that would increase job opportunities, lift wages, and help us keep the commitments we've made to our seniors and veterans.
You can learn more about these ideas by going to better.gop.
Our plan addresses the need to reform government itself, and that's what I would like to focus on here.
Last Saturday was Constitution Day. Two-hundred twenty-nine years ago today, a group of visionaries—including Alexander Hamilton, Benjamin Franklin, James Madison, and George Washington—emerged from Independence Hall having signed the final draft of the blueprint for our federal government.
Theirs was a vision for a new kind of government, one based on freedom not force. Our Founders recognized that in our country, the government would operate by the consent of the governed. And so to guard against arbitrary power, there would instead be a separation of powers among three branches of government.
This all sounds so simple, but in recent years, we've seen an erosion of these principles.
A regulatory superstate has replaced the sovereignty of the people. So-called experts in Washington churn out all kinds of rules and red tape without accountability, hurting millions of Americans. For example, the misguided regulation of community banks under Dodd-Frank, Washington's financial control law, is harming consumers and families. Prior to Dodd Frank, 75 percent of community banks offered free checking; today it's down to 39 percent. Ten dollars a month may not seem like much to Washington bureaucrats with six-figure salaries, but it is to the 75 percent of American people living paycheck to paycheck.
Similar harm has been done in health care, where millions have been harmed by skyrocketing premiums and deductibles, and in the energy industry, where tens of thousands have lost jobs since President Obama's 2008 promise to bankrupt the coal industry.
That is why Americans want the people from their area—their representative—making the laws, not the unaccountable bureaucrats who live in a far off capital.
We also need to get back to basics regarding the fundamental freedoms our Constitution protects. We have seen threats, for example, to First and Second Amendment rights in recent years. Indeed, my own diocese of Pittsburgh, as well as the Little Sisters of the Poor, had to go all the way to the Supreme Court to protect the right to exercise their religion against an overbearing regulatory agency.
Our Better Way plan seeks to restore the separation of powers in at least a few important ways: We propose that Congress actually write laws in clear language that provides clear lines of authority—no gray areas that allow unelected bureaucrats to run amok; we propose new limits on spending, so that Congress and the people have the ultimate say over how your tax dollars are being spent; and we want to increase transparency across the board. Make government publish more information about what it's doing, and especially, what it's regulating. After all, this is the people's business.
These Better Way reforms are a good start, but the work of defending the Constitution is the work of every generation. It is how we live up to the legacy of our founders. It is how we keep America exceptional."
The "Newsmkaer of the Day" is heard every weekday morning at 6:45, 7:45 and 8:45 on AM 1450 and FM 102.7 KVML.