Sonora PD Makes Drug Bust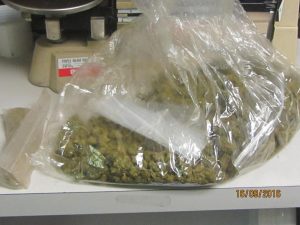 Marijuana Confiscated During Sonora Traffic Stop

View Photos
Sonora, CA — A Colorado man was caught transporting marijuana for sale in Sonora.
The Sonora PD reports that 21-year-old Kenneth David Freeman Jr. was pulled over in a 1999 VW Passat in the 1100 block of Sanguinetti Road because he was not wearing his seat belt. A strong odor of marijuana was coming from the vehicle and Freeman allegedly appeared "agitated and nervous" while interacting with the officer. The officer determined that Freeman was driving without a valid driver's license, so he was arrested for the misdemeanor violation. The officer then searched the car and found 332.5 grams of marijuana. Freeman was then charged with felony transporting marijuana for sale.
The PD reports the arrest was made at 9am on September 16.