Will New Plan Fate New Melones To Future Dead Pool Levels?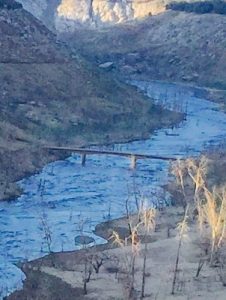 New Melones low water levels-8-19-15

View Photos
Sonora, CA — New plans afoot by the State Water Board that involve sending more water from New Melones reservoir downstream threaten to bring it to dead pool levels again.
In overview form the state signaled its plan last Friday to tap up to 350,000 acre-feet of water a year from three Central California rivers, including the Stanislaus, for the supposed benefit of river habitat and fish populations.
Although there is a 60-day public comment period for response to the proposed plan, the Tri-Dam partners — the Oakdale and South San Joaquin irrigation districts (OID and SSJID), which have senior water rights on the Stanislaus at Melones, — have already come out strongly against it. They are taking a stand with a broad coalition of public agencies, private organizations and citizens that believe that taking that much more water, enough to serve one million families, is just too huge of a toll.
Water Board Selectively 'Putting The Squeeze On'?  
OID General Manger Steve Knell emphasizes, "We need to be clear that this is not a statewide issue. This is only on the San Joaquin River…phase one right now of a multi-phase attempt by the state to garner more water releases from all of us in the Sacramento Basin, Central Valley and all south — down to at least Merced — to put more water out to the Delta..because they believe…[it] will solve all the Delta problems."
With clear exasperation in his voice Knell adds, "That is the first problem they have is, as we believe water is too precious to be sending down the river and out the Delta with really no defined benefit." He calls it a scary proposition, adding, "The only three rivers impacted are the Merced, the Tuolumne and the Stanislaus rivers." He points out that plans at hand exclude those south of the Merced where it empties into the San Joaquin as well as those on the west side of the valley and on the Mokelumne River to the north.
Knell explains that under the current management plan, which operates using the federal biological opinion that was implemented back in 2009, calls for a 32 percent unimpaired flow standard between February and June. It would be increased to 40 percent under the proposal, further compounding for New Melones the already significant impacts on its water storage ability, not to mention its levels, which already are limiting recreational use.
How Low Can Melones Go?
"If you look at Melones storage today compared to any other reservoir in California, it has the worst volume of water stored, based on the size of the dam," Knell says ruefully. The reason he says is because water supplies from the state's other rivers are already fully allocated for agriculture, the environment or municipalities. Checking the current major reservoir conditions, at 22 percent of its 2.4 million acre-feet total capacity, New Melones is now sitting at 39 percent of its historical average for this time of year — the lowest in the state. (To view the reservoir levels map click in the upper left image box.)
Locals and Melones recreaters remember that last year the waters were nearly drained. Ending up at nearly 257,00 acre feet, the reservoir was effectively reaching dead pool depths.
Knell notes, "That is a result of releasing 32 percent unimpaired flow for the previous five years." Think about it, he says. "If 32 percent drains the reservoir, when they go to 40 percent, all that means is…New Melones and our basin will be empty more often and at these low levels more often – and for more prolonged periods of time." He states, perhaps with only slight exaggeration, that the additional draining effect might mean that a recovery would require a rain event of Noah-like Biblical proportions.
Fish Species Suffering Under Current Flows
Reigning it back a bit Knell states, "We know we are going to have below average and below normal [rain] years going forward so there is…very slim chance of recovery…which means the loss of recreational opportunities." Fishing is already impacted, he comments, citing the latest fish biological report that came out a couple of weeks back.
Recounting the findings, he shares, "We lost 75 percent of the trout population downstream of Goodwin Dam as a result of this management. So this is the other part. We have been operating at 32 percent unimpaired flow– we are going to go to 40 — but last year we got so low that warm water came out of the dam…warm water for salmon. We fried eggs in our salmon population and our trout are showing no reproduction…the very population, the very fisheries they are trying to improve are suffering as a result of 32 percent unimpaired flow."
Next steps for the involved water districts, Bureau of Reclamation and other stakeholders — including concerned citizens — are to provide input and concerns during the 60-day comment period. Knell says the Tri-Dam partners are planning to scrutinize the entire plan over the coming month and they will not pull any punches with their response.
Plans, Ways To Weigh In
Matter-of-factly, Knell states, "We will analyze it…find out what the true impacts are and then we will make very specific comments on how detrimental this is to our region, to our economy, to our farmers, to our communities — and we will try to make our pitch that this just can't go forward. Because we believe that, if it is anything like the last [plan]…we anticipate the impacts to be even greater…because they have upped the ante."
As numbers of responses are important, Knell encourages anyone interested in expressing their concerns over potential impacts from the state's planned increased flows from Goodwin Dam and Melones to send letters to the water board and state legislators.
To further facilitate public outreach, OID and SJID have set up a resource "Save The Stan" webpage that is regularly updated with the latest information on the issue. It includes an app that enables users to auto-send a letter to the water board. "That is the easiest thing to do," Knell advises. He adds, "For those who want to study the issue, perhaps form their own letter, I think there is some good information on there that they can use." For more details, click here.