Police Investigate Internet Threats And Rumors At Bret Harte High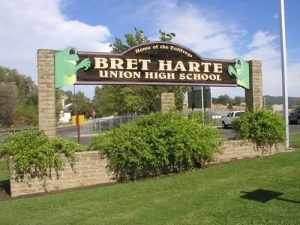 Bret Harte High School

View Photos
Angels Camp, CA — The Angels Camp Police Department has been at Bret Harte High School over several recent days.
Early last week the PD, with assistance from high school staff, began investigating a public Instagram webpage that included an image of a Guy Fawkes mask that is commonly associated with the activist group Anonymous, which has carried out several cyberattacks. The page had vague references to "the coming storm." Several parents voiced concerns and law enforcement started monitoring the page.
Two days later, Wednesday, administrators were notified about rumors of a gun being on campus. An investigation was carried out, and the rumor was determined to be false. However, there seemed to be a heightened sense of alert due to the earlier referenced page, according to the Police Department. The person behind the Instagram page was located and interviewed, and the Police Department reports that appropriate action was taken by Bret Harte personnel.
On Thursday the PD received a report that a student was using the internet and text messaging to pass along a "hit list" of several students.  The student behind it was questioned by authorities, as well as other friends involved, and they determined that there was no credible criminal threat.
Police Department Spokesperson Teresa Pry says, "Parents and students are cautioned to closely monitor internet activity. While the internet is a powerful and valuable tool, it is important to have the understanding that information communicated on the internet can have long term consequences. While seemingly harmless and private, threats can be considered criminal and have long term consequences."