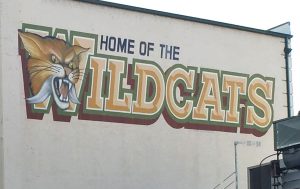 Wildcats Logo Sonora High School

View Photos
Sonora, CA — The Wildcats winning streak continued as they rained on Hilmar's homecoming parade 37-27.  Sonora had a hard fought battle with the Yellowjackets all night. The Wildcats scoring opened with Kane Rodgers grabbing an 18 yard touchdown reception from Josh Harris to start the scoring. Hilmar scored in the first quarter as well ending the first period in a 7-7 tie. The second quarter was all Rodgers as he pulled in two touchdown receptions, 18 yards and 51 yards respectively. He also added an interception. Additionally, Sonora's Bradley Canepa added a 12 yard touchdown run during the second period. Hilmar returned a kickoff over 90 yards and the score going into halftime was Sonora 27, Yellowjackets 13.
During the third quarter scoring was scarce for Sonora but the Wildcats kicker, Riley Garrett added 3 with a 32 yard field goal and converted 4 of 5 extra points.
In the 4th quarter, Rodgers took a handoff, pulled up and threw a 69 yard touchdown pass to Gino Bergamaschi to take the wind out of Hilmar's sails. The Yellowjackets never gave up as it took a 4th down defensive stop in their own territory for the Sonora Wildcats to seal the victory.  Next week Sonora faces Calaveras in San Andreas.
The Summerville Bears battled against the Hughson Huskies in a tightly contested game that went down to the wire. A few crazy grabs by Summerville's Cole Bick and Hughson's Joseph Ramos, had fans on their feet. As Hughson lead 13-6, Summerville QB Gabe Walker threaded the needle to tight end Bick who tipped the ball to himself and then brought it down with one hand.
As the ball lay on the two yard line, Walker handed it off to Luke Fulkerson who rushed in for a two-yard score to nod the game up at 13-13. The Bears went for the two-point conversion and Fulkerson dove in to give the Bears a 14-13 lead with 3:11 left in the game. After a huge stop against Hughson on fourth and two, Summerville got the ball back.  Only leading by one and looking to insure a win by punching it in one more time. Luke Fulkerson got the edge and bounced it outside all the way for a 46 yard touchdown that would give the Bear's a big 20-13 victory over the huskies. Summerville is now 3-1 as they hit the bye week this coming Friday and take on the Linden Lions the following week.
Bret Harte High School sailed passed North Highlands with a score of 55 to 24. Calaveras High stormed past Union Mine 42 to 7. Both those games were on the road.
*Mark Ferriera and Brandon Steele contributed to this report