Possible Plea Deal In Willow Fire Case?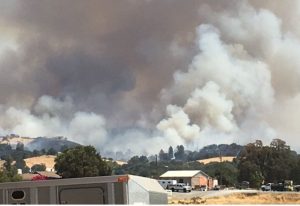 Willow Fire

View Photos
San Andreas, CA — The woman accused of recklessly setting a 450-acre fire with her car appeared in Calaveras County Superior Court Monday.
As reported here, West Point resident Rene Ilene Hogan, 44, was charged with several felonies and two misdemeanors relating to the incident.
On Monday Hogan appeared for a preliminary hearing before Judge Grant Barrett. According to court documents she was provided with discovery of case details that would allow it to proceed and it is additionally anticipated that a plea agreement may be offered over the next few weeks. In the meantime she remains in the county jail; her bail set at $132,500.
The blaze, which ignited Aug. 28 in San Andreas, off Mountain Ranch Road near Willow Creek Road, damaged a house and surrounding forest lands before being contained three days later. CAL Fire officials determined from multiple witness reports and its own investigation that the fire was sparked at several points by a driver, allegedly Hogan, driving some distance on the rim of a flat tire.