End Of Recreation Season Drawdown To Begin At Pinecrest Lake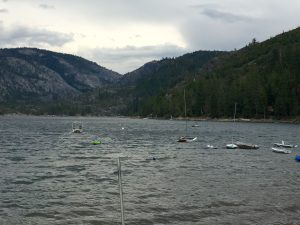 Pinecrest Lake

View Photos
Sonora, CA — Now that it is post Labor Day, the water level at Pinecrest Lake will start to notably drop over the next several months.
It is one of the many topics Tuolumne Utilities District officials addressed on a 30-minute Mother Lode Views program this past weekend on the Clarke Broadcasting radio stations.
Labor Day is the traditional end of the summer recreation season, and Pinecrest Lake will start seeing fewer visitors. T.U.D. General Manager Tom Haglund says, "PG&E has a water right to use the water in Pinecrest Lake for the production of hydroelectric power, so they will be running water through the Spring Gap Hydroelectric facility, and they will be drawing that down."
The drawdown starts post Labor Day and continues through the end of December. In light of recent drought years, T.U.D. has been advocating that the drawdown curve be tied to the amount of snow produced during November and December, so that the district is less susceptible to needing customers to take emergency conservation measures during dry years. Haglund adds, "What we would like PG&E to do is maintain a certain lake level. Our belief is that the lower the snowpack is in the November and December, the higher the lake should be kept.
Since T.U.D. does not have water rights, and the lake is drained for energy production, the district essentially starts at square one each water year and relies on the yearly precipitation.
The final decision on any changes would come from the Federal Energy Regulatory Commission.
Mother Lode Views also focused on the district's response to tree mortality. T.U.D. has identified over 2,700 trees that need to be removed because they are threatening the district's ditch system. The dead and dying trees have been tagged and photographed, and crews will soon be hired to go out and remove them.
In regards to the budget, this past May the Board of Directors approved a two-year balanced spending plan. With help from the rate increase the Board adopted last November, several capital improvement projects are underway. Click here to find a link to the entire show for more details.