Repairs Planned For Mountain Tunnel Near Groveland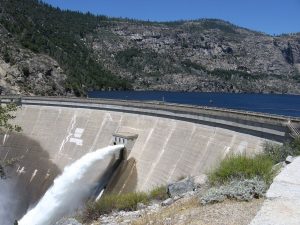 Hetch Hetchy Reservoir

View Photos
Groveland, CA — The Mountain Tunnel, which spans 19 miles in Tuolumne County, will be shut down for an unprecedented two months starting around January.
The San Francisco Public Utilities will be making long needed repairs and improvements to the tunnel that helps transport water from Hetch Hetchy Reservoir to the Bay Area. SFPUC Spokesperson Charles Shaheen says, "Our Mountain Tunnel has been delivering water from the Hetch Hetchy system since about 1925. It's been operating pretty much continuously since then, and so we are taking it out of service early next year for about 60 days to conduct some inspections and do some maintenance and repair work on the tunnel."
During that stretch of time, the SFPUC will rely on water from its reservoirs situated in the Bay Area. It will be a notable shift as roughly 85% of San Francisco's water comes from Hetch Hetchy Reservoir. The water is also used by some other utilities, such as the Groveland Community Services District.
Shaheen adds, "Similar to the Bay Area where we have other reservoirs and storage supplies, Groveland too has storage. They will be tapping into the storage during the shutoff. They also have a filtration system so they could also tap into Pine Mountain Lake."
The Mountain Tunnel stretches from Kirkwood Powerhouse to Priest Reservoir.