GOP: What A Clinton Presidency Will Mean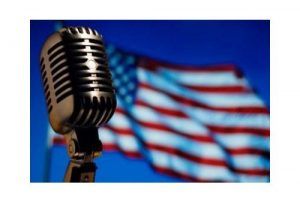 Microphone and US Flag

View Photos
The Republican Weekly Address was delivered by RNC Chairman Reince Priebus.
Priebus was Tuesday's KVML "Newsmaker of the Day". The entire address was broadcast on KVML Radio. Here are his words:
"I'm Chairman of the Republican National Committee. Our party just wrapped up a Republican National Convention in Cleveland and we're entering the election as a united party committed to reviving prosperity, securing our homeland.
After eight years of President Obama's failed agenda, Democrats aren't budging from failed policy which is has left our country less prosperous, less safe and less free. They've been following the same aggressive tax-and-spend blueprint for decades.
We are the party of new ideas in a world changing faster than ever. We want to get rid of job killing regulations and stimulate innovation that will keep middle class families thriving.
Democrats want the federal government to impose one-size-fits-all policies on everybody. We say an independent person deserves individual solutions. The bottom line is Republicans believe in better. We believe in better schools. We believe in better healthcare. We believe in a better government and more responsive to the needs of our people. We believe in a better economy which rewards hard work no matter where you punch that clock and we believe in a better chance at the American dream for everyone.
"A Hillary Clinton presidency only means more of the same failed status quo which has racked up unprecedented debt, sent your healthcare premiums soaring because of ObamaCare, and kept middle class families wondering if a raise was ever coming. A Clinton presidency means America will drift further from the principles of limited government, free enterprise, strong national defense and empowered families. In foreign policy, a Clinton presidency means forgetting our friends and enabling our enemies. It was on her watch ISIS started to spread its wings of darkness over the Middle East, and Libya became a playground for radical Islamic terrorists.
If given the chance, Hillary Clinton will stack the Supreme Court with activists, extreme liberal judges who will treat the Constitution like a doormat. Perhaps worst of all, Hillary Clinton has perfected the art of politics for personal gain. The Clinton gravy train has been barreling down the tracks for too long. Americans have had enough of a government that doesn't work for them. They've had enough of the Clintons' excuses and cronyism and cover ups. They've had enough of the corrupt bargains and above the law mentality. This election is about our chance to stop all of that.
Donald Trump is listening to Americans from coast to coast who are anxious go a country which has lost its way. He wants to bring jobs back from overseas and hold companies who want to send them abroad accountable. He's going to stop illegal immigration and makes sure our government puts American citizens first. He's going to negotiate better trade deals, revive our ports and factories and breathe new life into the cities and towns eager to roll up their sleeves and reclaim their place as the greatest manufacturing centers in the world. Working families are the life blood of our country and we can't thrive as a nation unless they are thriving. A lot of them haven't seen a bigger paycheck in a long time.
With Donald Trump and Mike Pence, America is ready for a comeback after almost a decade of Clinton, Obama failures. This November, vote Republican up and down the ballot to preserve our freedoms and put America first."
The "Newsmaker of the Day" is heard every weekday morning on AM 1450 and FM 102.7 KVML at 6:45, 7:45 and 8:45 AM.