Vehicle Stop Turns Into Drug Bust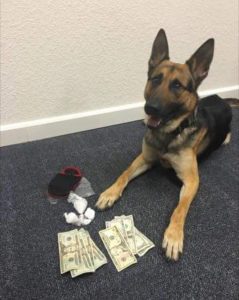 K9 Hans Following Drug Bust

View Photos
Sonora, CA — Two people were arrested for possessing and transporting methamphetamine for sale after it was located during a traffic stop.
50-year-old Eric Richard Smith of Copperopolis and 41-year-old Kimberly Ann Hubbard of Jamestown were driving in a 2010 Dodge sedan with expired registration, a cracked windshield and a false registration sticker. The vehicle was pulled over at 5:42pm Saturday on Old Wards Ferry Road in Sonora. Hubbard was on searchable probation so a deputy deployed K9 Hans to search the vehicle. Four packages of methamphetamine, with a combined weight of two ounces, were located. In addition, there was less than an ounce of marijuana and $98 in cash.
The two were placed into custody and booked at the Tuolumne County Jail.
Detectives then obtained a search warrant for Smith's Copperopolis home in Calaveras County. A search was conducted at 11:47pm with help from the Calaveras County Sheriff's Office. Two additional ounces of methamphetamine were confiscated along with evidence of narcotic sales. 48-year James Daniel West, who was inside the home, was arrested on drug related charges. An unidentified female was also in the home at the time but was not charged. An unidentified man also escaped by running away from the home as deputies arrived on scene. An investigation has been ongoing.