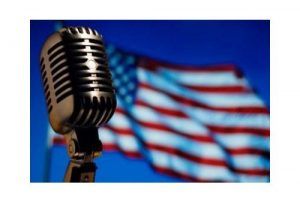 Microphone and US Flag

View Photos
In this week's Republican address, House Republican leaders presented the GOP agenda, "A Better Way."
House Speaker Paul Ryan (R-WI), House Majority Leader Kevin McCarthy (R-CA), House Majority Whip Steve Scalise (R-LA), House Republican Conference Chair Cathy McMorris Rodgers (R-WA), and House Republican Conference Vice Chair Lynn Jenkins (R-KS) were KVML's "Newsmakers of the Day". Here are their words:
House Speaker Paul Ryan of Wisconsin
"Last fall, we came together and made the decision that it was time to go from being an opposition party to being a proposition party. We dedicated ourselves to looking at the problems facing our constituents and the country and coming up with principled solutions. . . .
"Now these ideas work in a pretty simple way. We take our timeless principles . . . we apply them to the problems of the day, and we offer people solutions that help improve their lives. . . . We offer a better way to secure our homeland, to produce national security. . . . We offer a better way to give us the kind of military we need to do the job that we ask of our brave men and women serving in our military. . . .
"Our job in these jobs is to look at the problems facing this country and offer solutions. That's what we are doing. Seven out of 10 Americans do not think America is headed in the right direction. We agree. But rather than simply complain—rather than simply just throw bombs—we are offering solutions."
Majority Leader Kevin McCarthy of California
"For the last number of months this entire Conference has been working hard to come together, find the legislation to put the plan out . . .This is a better way. . . . And as we go back to our districts in the next month, we not only will talk about it, we will show a better way for all Americans . . . But it doesn't just reach a few, it will reach all—from poverty into the lowest realms of America."
Majority Whip Steve Scalise of Louisiana
". . . Bold plans that can get the economy moving again; a bold plan to rebuild the middle class, to make America competitive again . . . I think it's pretty clear now that people know that we don't like Obamacare as House Republicans. But they want to know what we're for, and our Better Way plan lays out a way to put patients back in charge of their healthcare, to focus on lowering costs and getting rid of the mandates that are killing jobs under Obamacare."
Republican Conference Chair Cathy McMorris Rodgers of Washington
"A Better Way to make America the best place to live, to work . . . Today people are anxious. We are all anxious. We're on edge. You know what? There's A Better Way. . . . But more than anything, what people want right now is to be heard. And that's why it is so important and fundamental that we restore [the] people's voice in their government and uphold the Constitution. . . . So let's reaffirm a government of the people, by the people, and for the people."
Republican Conference Vice Chair Lynn Jenkins of Kansas
"It is comprised of policies that are based on commonsense principles that everyone can agree on: rewarding hard work, stimulating growth, building a fairer, flatter tax code, and holding the IRS in check. . . . The American people deserve a better way—and that is exactly what House Republicans are going to deliver."
The "Newsmaker of the Day" is heard every weekday morning at 6:45, 7:45 and 8:45 AM on FM 102.7 and AM 1450 KVML.