Update: Stagecoach Fire Containment Jumps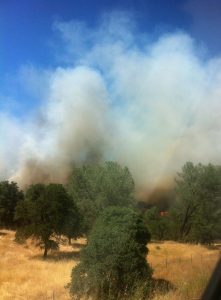 Stagecoach Fire

View Photos
Update at 8:35 a.m.: Cal Fire spokesperson Lindy Shoff reports that the containment has grown to 75 percent. The acreage remains at 35. Shoff adds that fire investigators are actively working to determine a cause of the blaze this morning.
Original post at 6:20 a.m.: Copperopolis, CA — Firefighters are getting a handle on the Stagecoach Fire, which is burning in the Copperopolis area off of Highway 4.
The blaze grew from 29 to 35 acres overnight and the containment is 30 percent. Soon after the fire broke out in the 3300 block of Stagecoach Road around 3:30p.m. Tuesday, Calaveras County Sheriff Rick DiBasilio reported that deputies started to evacuate ten nearby homes, but then received the word from CAL Fire that it was no longer needed.
A stretch of Highway 4 was closed for about a half hour from Little John Road to Horseshoe Road. There is no word on what ignited the blaze.