Update: Stagecoach Fire In Copperopolis at 20-30 Acres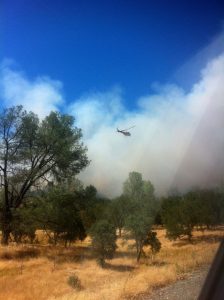 Stagecoach Fire

View Photos
Update at 4:50pm: CAL Fire reports the forward rate of spread has been stopped on the Stagecoach Fire. It has burned an estimated 20-30 acres.
Calaveras County Sheriff Rick DiBasilio reports that deputies were starting to evacuate 10 nearby homes in the area, but then received the word from CAL Fire that it is no longer necessary. Highway 4 has reopened, but nearby Horseshoe Road is closed.
Update at 4:18 p.m.: CHP reports that Highway 4, which had been closed from Little John Road to Horseshoe Road is re-opening. The fire remains at 20 to 30 acres.
A special thanks to community news partners Richard Treadway, Bryan Root, and Steph Straub for sending in the photos. Pictures can be e-mailed to news@clarkebroadcasting.com.
Update at 4:02 p.m.: The Stagecoach Fire, now estimated at between 20 to 30 acres, is still not contained and moving at moderate rate rate of spread. CAL Fire additionally states that while there are no evacuations currently and no homes are threatened, residences and high tension power lines are close by. Highway 4 is closed from Little John Road to Horseshoe Road.
Update at 3:50 p.m.: A fire that ignited in Copperopolis, now being called the Stagecoach Fire, is currently being described by CAL Fire dispatch as five to seven acres with no containment. It is reportedly moving at a fast rate of spread. According to CHP San Andrea Unit spokesperson Officer Rebecca Myers, the CHP and Caltrans are now in the process of closing Highway 4 from Little John Road to Horseshoe Road.
Suggested detours are Milton Road to Rock Creek Road to Highway 4 or to Highway 26.
Original Post at 3:36 p.m.: Copperopolis, CA — Firefighters are battling another vegetation fire, which is in Copperopolis off Highway 4.
Cal Fire reports the fire is five  to seven acres in size and moving at a fast rate of spread.  The flames are in the 3300 block of Stagecoach Road near Horseshoe Road. No homes are threatened at this time.  We will bring you more details as soon as they come into the news center.