GOP: The Stop Dangerous Sanctuary Cities Act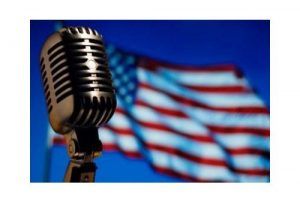 Microphone and US Flag

View Photos
Sen. Pat Toomey (R-Pennsylvania) delivered this week's Republican address, discussing the Stop Dangerous Sanctuary Cities Act in wake of the death of Kate Steinle.
Toomy was Tuesday's KVML "Newsmaker of the Day". Here are his words:
"Hi, I'm Senator Pat Toomey of Pennsylvania. You know, for most Americans, last weekend included picnics, and fireworks, and Independence Day celebrations—but one father marked the time quite differently. For Jim Steinle, last weekend marked the one-year anniversary of his daughter's murder.
It was July 1, 2015 and Jim Steinle was walking arm-in-arm with his daughter Kate on a San Francisco pier. Suddenly a gunman opened fire, hitting Kate. She fell into her father's arms. Her last words were, 'Help me, Dad,' as she bled to death.
This tragedy was compounded by the fact that the shooter should never have been on the pier that day. He was a career criminal who had previously been convicted of seven felonies, and he was an illegal immigrant who had been deported five times.
What's even more maddening is three months earlier, the San Francisco sheriff's office had the man in custody. Learning this, the Obama Administration's Department of Homeland Security asked the sheriff's office to hold him—or at least notify them before releasing him—so federal officials could pick him up. But San Francisco refused, and instead they released Kate Steinle's killer. Why did they do that? Because San Francisco is a 'sanctuary city.' It forbids its local law enforcement officers from cooperating with federal immigration officials—even when they're trying to detain criminals.
As a father of three young children, I can't even imagine the pain that the Steinle family has had to endure, but sadly, they are not alone. An internal Department of Homeland Security memo revealed that during an eight-month period in 2014, sanctuary cities across America released 8,000 illegal immigrants, and 1,800 of them were later arrested for criminal acts. This included two cities that released individuals who had been arrested for child sexual abuse, and in both cases, the individuals were later re-arrested for sexually assaulting additional young children.
This policy makes absolutely no sense. It's no wonder officials from across the political spectrum and numerous law enforcement groups have criticized these dangerous sanctuary city policies. Even President Obama's Secretary of Homeland Security Jeh Johnson called the policies 'not acceptable' and 'counterproductive to public safety.'
These leaders understand this issue is not about immigration. It is about public safety. The vast majority of immigrants in America would never commit any such crime—but any very large group of people is going to include some terrible people within it. And with about eleven million illegal immigrants in our country, there will be some who are violent criminals.
It makes no sense to give those violent criminals any safe haven. That's why I introduced the Stop Dangerous Sanctuary Cities Act. My legislation states that if a city chooses to be a sanctuary city, then it will not receive certain federal grants. That's just fair.
Sanctuary cities impose terrible costs on our communities, on our country, including increased crime, and, tragically, lost lives like Kate Steinle's. We should withhold some federal taxpayer dollars from these cities until they reverse course and start cooperating with federal immigration officials to prevent the release of these dangerous criminals.
Well, this week the Senate tried to take action on my legislation and indeed it was supported by a bipartisan majority, but unfortunately, a minority of the U.S. Senate—led by Minority Leader Harry Reid—blocked us from even debating the bill.
It's just outrageous and this must not stand. The safety of the American people is too important—the lives of Kate Steinle and so many others are too important—to allow sanctuary cities to remain, and this is why I will continue fighting to protect our communities.
I'm Pennsylvania Senator Pat Toomey. Thank you."
The "Newsmaker of the Day" is heard every weekday morning on AM 1450 and FM 102.7 KVML at 6:45, 7:45 and 8:45.