Governor Brown Calls On Congress To "Do Its Job"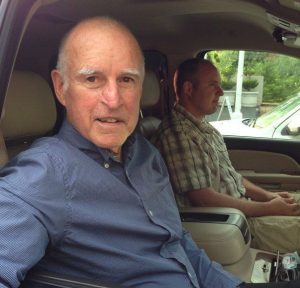 Governor Brown at the Mother Lode Fair: Photo taken by: Tracey Petersen

View Photos
Sacramento, CA — Those harsh words came on the heels of the U.S. Supreme Court's decision on the President's executive action on immigration.
Republican challengers had argued the President's unilateral actions were unconstitutional and they violated a federal law that sets forward how agencies can establish regulations. In a split decision Thursday, the court voted 4-4 along party lines in its ruling regarding the United States v. Texas, which deals with two of Obama's immigration reform programs and deportation. One targeted a path to citizenship for nearly 4.3 million undocumented parents of citizens and lawful residents, and the second dealt with non-citizens who came to the country as children. The ruling blocks those programs from moving forward.
Governor Brown made this comment in continued support of the President's programs, "Today's Supreme Court deadlock leaves millions of families in America facing a troubled and uncertain future. It's time for Congress to do its job." Brown is referring to no action being taken in Congress on immigration reform.
According to the Governor's office, California filed a friend-of-the-court brief last year with more than a dozen other states, applauding these executive actions that "will benefit millions of people and their families, as well as the states in which they reside."