A Grand Opening For Yosemite's First New Resort in 25 Years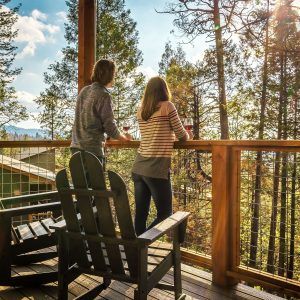 Rush Creek Lodge, Hillside Villa Deck

View Photos
Groveland, CA — Friday at noon hospitality operations will open with a flourish and public welcome at Rush Creek Lodge, Yosemite National Park's celebrated new next door neighbor.
The much-anticipated debut of the region's first new resort in 25 years comes as the park, still high from last week's visit from President Barack Obama and the First Family, has seen a 20 percent increase in visitors since last year. The tourism infusion, likewise a local boon, is attributed both to the improving economy as well as the highly promoted Centennial of the National Park Service.
Following an old-fashioned public ribbon cutting celebration with comments from community leaders and partners, the hosts at the new 20-acre complex, described as a rustic-modern "resort base camp," will offer a site tour of its sustainable features; among these is one of the largest gray water recycling systems in the state. Free snacks, beverages, live music and games organized by the in-house recreation team are included in the festivities, according to Teri Marshall, marketing director for resort owners, First Light Hospitality.
Branding Warm Hospitality
Conveniently situated on Highway 120 beeline route from the Bay Area, the tony new property is located a mere half-mile from the Yosemite West Entrance. It is also just across the way from its popular, well-established sister resort, Evergreen Lodge.
Owners of that historic lodge for over a decade, Marshall says her company had ample opportunity to develop their own brand of warm hospitality tinged with a distinct social and environmentally conscious emphasis. Integral to this she says, "Is how we treat people — not only our guests, but all of the people who work with us — as well and also in evolving the youth internship program that Evergreen has become very successful with. We are able to now double that program and put the same program in place at Rush Creek Lodge."
Continuing, Marshall enthuses, "Employing people locally and regionally has been a top priority for us, and I think we have done a great job [at Rush Creek Lodge] of bringing in well over 100 people from the county and the surrounding region…local contractors for two sections…lots of families here, working — brothers, sisters, cousins – it's pretty fun!"
Sustainability Through Partnerships

The First Light Hospitality internship has grown somewhat in tandem with a hospitality industry degree program that launched this past spring at Columbia College, which offers students on-the-job training opportunities at Rush Creek and Evergreen lodges as well as Black Oak Casino Resort. Marshall says that college officials will be among the local agencies on hand at the opening to share about their collaborative partnering efforts. Environmental educator/advocates NatureBridge and Yosemite Conservancy will also be on hand to provide details of their current locally-focused projects.
Marshall lauds the Tuolumne County Visitors Bureau (TCVB) and other local agencies that are crucial in providing key support. "We love partnering with them…they are just a great group of professionals…the Economic Development team as well…the County Supervisors have been just amazing. It has all been a really great shining example of how a team effort and how public and private sectors can work together very successfully," she notes.
Amenities at the new resort include: a main lodge, restaurant, tavern and general store; a combination of 143 rooms, suites and two-bedroom hillside villas, all with outdoor decks, custom furnishings and artwork as well as the latest in IT connections; and a large saltwater pool with two hot tubs, one of which is family-friendly. A full-service onsite recreation department offers paid guided excursions and wellness programs along with complimentary advice for DIYers and daily onsite activities.
While off-peak season rates run $215-$380 per night and peak summer and holidays range from $295-$495, Marshall points out that the costs include a full resort experience and that the two-bedroom villas offered on the high end accommodate up to six people. To learn more about what Rush Creek Lodge has to offer, click here.