Sonora Man Charged With Felony Assault On Police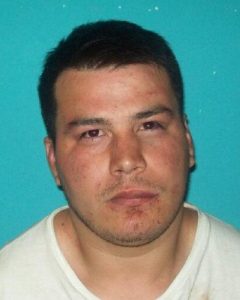 Bennie Mora, Booking Photo

View Photos
Sonora, CA — After winding up unconscious in a downtown Sonora bar, a local man apparently made things much worse for himself by punching out a police officer.
Wednesday night around 11:30 Chief Mark Stinson says medics and officers responded to a call from Zane's Iron Horse Bar, where a man was reported to have been knocked out. The subject was identified as Bennie Mora, 23, of Sonora. The Chief calls what happened next the beginning of several unprovoked attacks. "We arrived and he started, right away, to become combative with the medics on scene, so he was transported to Sonora Regional Medical Center because he had to be looked at, because of being knocked unconscious."
As Chief Stinson recounts, "While at the hospital, he basically — unprovoked — attacked the officer…the subject charged the officer once and the officer was able to push him back. The suspect sat down on a gurney for a few minutes — and then got up and charged the officer again at full speed — and punched the officer in the face, breaking his nose." According to Stinson, the officer was able to take Mora to the ground and pin him with the assistance of the ambulance crew and hospital personnel, including the security staff, until other officers were able to arrive and restrain him.
Once he was medically cleared from being knocked unconscious at the bar, Mora was transported to the Tuolumne County Jail to be booked for the attack on the first officer. However, that did not end the troubles of the evening for Mora, according to Chief Stinson. "While inside at the jail, he attacked a jail deputy, punching the jail deputy in the face, and then another deputy was injured while trying to subdue and restrain him inside the jail and that deputy received a welt to the back of their hand. Now he's facing a felony assault with a great bodily injury to an officer, which is a felony…one of the few felonies in the State of California that actually still carries prison time."
Asked if these kinds of incidents with aggressive subjects is on the rise, Stinson somberly acknowledges, "Yes, the last couple of years we have seen an increase in violence toward law enforcement."
The Sonora police officer remains under treatment for his facial injuries, according to the Chief. Tuolumne County Sheriff's spokesperson Sgt. Andrea Benson confirms that two deputies, a male and a female, sustained injuries in the jail altercation. The female, who suffered a moderate hand injury with soft tissue damage that required her to leave the shift, is recovering. The male deputy wound up with facial scratches.