Forewarning On Firing Up Fireworks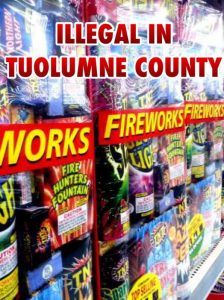 Fireworks Illegal in Tuolumne County

View Photos
Sonora, CA — As Independence Day nears and the urge to purchase and ignite fireworks increases, residents are warned that doing so in at least one local county is illegal.
Update: Don Pedro is not having its annual fireworks show. Ironstone is, details here.
This week, as signs advertising fireworks for sale begin to go up in Calaveras County, Tuolumne County Sheriff's Department's spokesperson Sgt. Andrea Benson emphasizes, "We would like to remind everyone that it is illegal to possess, sell or use any kind of fireworks in Tuolumne County. It is a violation of the county ordinance resulting in a citation or arrest and fine starting at $250." Too, she adds, transporting fireworks to Tuolumne County is a chargeable offense, and you could be held liable for any injury to persons or damage to property in violation of the local ordinance.
Benson shares a reminder that permits must be obtained ahead of planning public display events, which additionally require that fire personnel be on hand in order to quickly respond quickly in case an emergency develops. Within the county, she states, the only planned public display is at Pine Mountain Lake on July 2 at sundown, adding that no Lake Don Pedro fireworks show is slated this year.
'Safe And Sane' In Calaveras
Under state law, in communities that permit them such as Calaveras County, only those that bear the official Safe and Sane State Fire Marshal's seal may be bought or sold, and these must subsequently be set off using all the proper precautions.
Law enforcement and fire safety officials will be on the lookout for unsafe use of fireworks as well as to confiscate contraband pyrotechnics such as bottle rockets, sky rockets and roman candles, for which there are stiff penalties of up to $50,000 and a year in jail. More words for the wise: it is illegal to have or use fireworks on federal lands, regardless of their location, county-wise, such as in Stanislaus National Forest and Yosemite National Park.
Due to the active fire season now underway, Mother Lode residents and visitors are asked to use caution and abide by the laws and safety regulations while enjoying the July 4th holiday.
"Unfortunately, it is impossible to stop or find out who is being negligent until after the fact, and there has already been a fire in our county earlier this month at the Lake Tulloch area due to fireworks," Sgt. Benson notes. Folks need to please be very aware and alert, she says: "Everything is extremely dry since the drought has affected the terrain and the trees in our area. It seems that we are averaging up to two to three fires in our county and in nearby counties — and so many people have already lost so much, including homes and animals, due to these fires."