GOP: 'Better Way' Restores Representative Government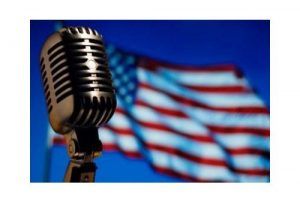 Microphone and US Flag

View Photos
Rep. Cathy McMorris Rodgers delivered this week's Republican address, talking about the GOP's efforts to "restore representative government" and "uphold" the Constitution.
McMorris was Tuesday's KVML "Newsmaker of the Day". Here are her words:
"We were all shocked and saddened by the tragedy in Orlando last weekend.
It was heartbreaking.
It's a reminder that, at the end of the day, no matter your background, we are all Americans.
And even as we grieve together as a nation, we must remain vigilant to protect the promise of America.
It's a promise that everyone here should have the confidence to live free, knowing they're safe from terror in their own community, and so they can pursue their own dreams.
Because in America, we trust people to make the best decisions for themselves. Not a government that decides for you.
But today, people are anxious. We're on edge as ISIS makes the world more dangerous. Parents worry about their children's future. Seniors worry about retirement. Students worry about finding good jobs to pay back their debt.
Hard-working families can't understand Washington, D.C.'s tangled web of taxes, one-size-fits-all regulations, and arbitrary rules.
We're anxious because your voices are not being heard in Congress.
There's a better way to restore representative government and uphold our Constitution, and that's what we rolled out this week.
Our goal is to reaffirm that government by the people, speaking through their elected representatives, is the best way to keep us free and safe; protect our liberty; and make sure the promise of America exists for the next generation.
Over time, presidents came to legislate by executive orders; courts came to make laws from the bench; and we, Congress, ceded power to the other two branches in order to simplify the lawmaking process.
But Congress is the seat of representative democracy.
It is here that "we the people" should make decisions about all laws that will govern us. Not in the basement of the Labor Department.
This is not a Republican or Democrat issue; it's an American issue. And it touches the very core of who we are.
Let's use the power of the purse to make government more accountable to people, so the IRS can't target free speech and the EPA can't regulate mud puddles.
Let's do our job of reviewing, rethinking, and possibly eliminating government programs that are running on autopilot without oversight, So agencies like the VA operate their hospitals more like Cleveland Clinics.
Let's hold unelected bureaucrats accountable for interfering with the next innovative startup someone's creating in a garage or with a scientist working to cure cancer in a lab.
Let's make agencies closer to the people—a government that operates more like Uber and Amazon and less like the DMV.
And—most importantly—let's give people a voice through their elected representatives so a 19th century institution can actually solve 21st century problems.
Restoring the people's voice in Congress is not just one part of our Better Way agenda, it's the most important part.
Unless people are back in the driver's seat, we won't be able to rebuild our military, roll back the red tape, or help our most vulnerable.
Because only "we, the people" know the way to achieve our dreams—not the government.
That's why freedom is so important. It's about making certain the promise of America is never broken.
I hope you'll learn more about our plan to restore representative government at www.better.gop."
The "Newsmaker of the Day" is heard every weekday morning on AM 1450 and FM 102.7 KVML at 6:45, 7:45 and 8:45 AM.