Update: Yosemite Washburn Fire Scorched More Acreage Overnight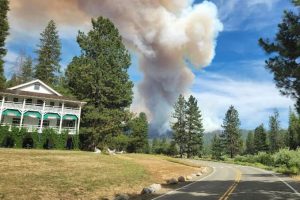 Picture of Wawona Hotel with large fire column in the background
Update at 8:55 p.m.: The Washburn Fire burning in Yosemite National Park's southern portion and threatening the Mariposa Grove of sequoias gained moderate acreage today.
The blaze climbed 487 acres from 703 this morning for a total of 1,190 acres this evening. The fire's containment remains at zero. Park fire officials report crews tonight will continue direct handline construction where possible and prep for indirect line when needed.  Regarding the fire's activity they shared, "Expect the fire to keep growing moderately. The fire has remained active overnight, and that  will be expected tonight."
The total personnel battling the blaze is 360. Yosemite provided these details on evacuations and road closures: Wawona, Wawona Road south of Yosemite West, and the Mariposa Grove are closed until further notice. All other areas of the park are open. They advise travelers use Highways 140 or 120 to enter Yosemite. Expect smoky conditions within the park.  Those currently within the fire area are asked to leave the area immediately by utilizing Wawona Road (Hwy 41) northbound toward Yosemite Valley. Southbound traffic is closed at the Wawona Golf Course.  For the latest map of the fire, click here.
Original post at 6:30 a.m.: Yosemite, CA  — The Washburn Fire burning in the southern portion of Yosemite National Park is threatening the Mariposa Grove and has jumped from 466 acres to 703 acres.
There remains no containment on the blaze. On Friday, mandatory evacuations were put in place for the Wawona community and Wawona Campground. Also, Wawona Road (Highway 41) is closed from the South Entrance to Henness Ridge Road. Park fire officials detailed, "Yosemite West remains accessible from the northern side of the Wawona road. Structure assessment and preparation work is ongoing in the community of Wawona." Regarding the giant sequoias in the Mariposa Grove, they added, "Efforts to protect these trees and the historic structures within the Grove include: removing hazard fuels, deploying temporary sprinkler systems, and utilizing protective structure wrap on the base of the trees as well as on the Galen Clark Cabin."
Fire officials report that moderate fire behavior was observed overnight, including long-range spotting, group torching, and backing. They added that increasing temperatures and decreasing humidity through the weekend are a concern. The total number of personnel on the scene is 209.
A fire shelter is set up at the New Life Church, located at 5089 Cole Road in Mariposa. The grove was evacuated shortly after the blaze ignited around 2 p.m. on Thursday near the lower Mariposa Grove area and Washburn trail. The grove remains closed, but the rest of the park is open and what ignited the blaze is under investigation.