GOP: A More Inclusive And More Inspiring America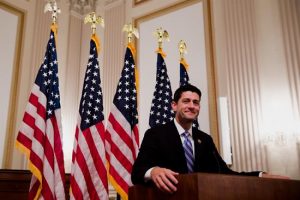 Paul Ryan

View Photos
House Speaker Paul Ryan has announced the launch of "A Better Way," the House Republican election-year agenda project Ryan believes Trump will support if he wins in November.
Ryan was Tuesday's KVML "Newsmaker of the Day". Here are his words:
"Let's face it: people know what Republicans are against.
Now we are giving you a plan that shows you what we are for.
Our ambition is a confident America, where everyone has the chance to go out and succeed no matter where they start in life.
That is the American Idea.
But right now, the country is on the wrong path.
How do we get back on track?
Well, we can get angry, and we can stay angry…
Or we can channel that anger into action…
We can start to tackle our problems before they tackle us.
This is what Americans do.
We don't accept decline.
We don't give in to division.
We find a better way.
Take poverty.
For years—decades now—Washington has spent trillions of dollars on dozens of programs to fight poverty.
But we have barely moved the needle.
The war on poverty is a stalemate at best.
So we can keep doing the same things and getting the same results.
Or, instead of trapping people in poverty, we can get them on the ladder of opportunity…reward work…open our economy so everyone can make the most of their lives.
As you will see, this is what our plan does.
It takes our timeless principles—liberty, free enterprise, consent of the governed—and applies them to the problems of our time.
It makes clear what needs to change.
You will have a clear choice on poverty, jobs, taxes, security, health care and government itself.
After decades of executive overreach, it is time we restore our Constitution.
That means we take control away from unelected bureaucrats, and give it back to the people and their representatives, so we are writing the laws that we live under.
All of us, not government, should have the biggest role to play in our lives.
That's what this is about.
That's why a clear choice is so important.
Because it is easy to get caught up in all the back-and-forth and the finger-pointing.
But to do this, to set things right, we need to raise our gaze. We need to go bold.
This is a chance to pull together and be part of something greater: a more inclusive, more inspiring, a more confident America.
This is a better way."
The "Newsmaker of the Day" is heard every weekday morning on AM 1450 KVML at 6:45, 7:45 and 8:45 AM.