Sonora Man Arrested For Trying To Pass Counterfeit Money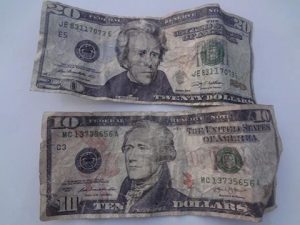 Counterfeit Money Confiscated In Sonora

View Photos
Sonora, CA — A Sonora man was taken into custody after trying to trade in multiple counterfeit bills for quarters at a local business.
The Sonora Police Department reports that it happened during the seven o'clock hour Thursday night at the Grocery Outlet on South Washington Street. 32-year-old Joseph Gerton first asked the store clerk for $10 in quarters in exchange for a $10-bill. The clerk could tell the bill was a fake and returned it to Gerton. He then tried to give the clerk a $20-bill, which was also a fake. As Gerton was leaving the store, the manager was able to get a vehicle description and license plate number, and contacted the PD. Gerton was located at his residence later in the evening, and the Grocery Outlet employees were able to positively identify him as the suspect. Gerton was transported to Tuolumne County Jail and booked on a felony charge of attempting to pass counterfeit money.
Police Chief Mark Stinson says he's noticed a spike in the Mother Lode over the past few months when it comes to counterfeit bills being passed at local businesses.