Update: Dry Lightning Threat This Weekend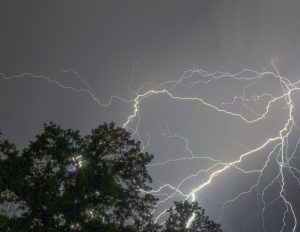 Tuolumne Lightning

View Photos
Hot weather will continue in Northern California through Monday, with high temperatures around 100 degrees in the Central Valley.
This could result in heat-related illnesses for sensitive groups of people.
Water safety is also a concern with cold, fast-moving streams and warm temperatures encouraging outdoor rafters and swimmers. Water temperatures in the Sierra Nevada are in the forties and fifties, while in the central valley they are mostly in the fifties and sixties. The loss of dexterity can occur in less than 15 minutes.
According to the National Weather Service, scattered showers and thunderstorms are possible across the Sierra Nevada from tonight through Monday as an upper level system moves through California. This could lead to an increase in fire starts with the combination of hot weather and thunderstorms.