Update: Vegetation Fire Near Mi-Wuk Village Contained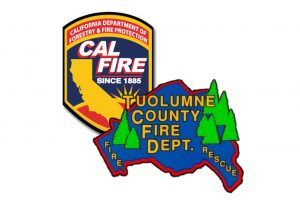 Cal Fire - Tuolumne County Fire Department Logo

View Photos
Update at 2 p.m.: Cal fire dispatch reports the fire has been contained after growing from a quarter to a half acre.  There is no word on what sparked the flames but no logging was going on at the site when the flames broke out. One engine remains on scene mopping up.
Original post at 1:45 p.m.: Mi-Wuk Village, CA — Firefighter and Columbia Air are battling a vegetation fire in Tuolumne County.
Cal Fire reports the flames broke out at a logging operation on Three Links Road off of Highway 108 north of Mi-Wuk Village in the area of the Odd Fellows Youth Camp. The fire is a quarter acre in size and crews hope to have the flames out in a matter of minutes, according to Cal Fire Dispatch. We will bring you more details as soon as they come into the newsroom.