Some Forest Sites Closed For Holiday Weekend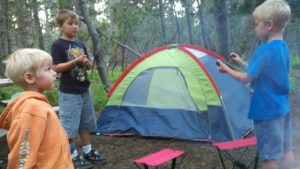 Children Camping

View Photos
Sonora, CA — If you planned on heading to the Stanislaus National Forest this Memorial Day weekend, better call ahead as the tree mortality crisis has forced some areas of the forest to be off limits to visitors and could last all summer long.
"Some campgrounds, roads and trails that are usually open by summer will remain closed until the hazard trees have been cleared," said Jeanne Higgins, Forest Supervisor, STF. "Removing hazard trees and making forests and campgrounds as safe as possible is our top priority."
Additionally, thousands of hazardous trees on the forest floor are in remote and scattered recreation areas that crews have not yet been able to survey, which could mean no caution or closure signs are posted. Forest spokesperson Rebecca Garcia warns visitors to take precautions, "We just want people to be advised of safety.  We do have tree mortality and hazard trees that have not been treated. So, it is best not to picnic under an orange tree, basically a dead tree."
Forest official have provided this list of closed campgrounds:  Calaveras Ranger District (RD) – Backpacker's Camp, Highlands Lakes, Lodgepole, Lodgepole Overflow, Mosquito Lakes, Pacific Valley, Pine Marten, and Silvertip Campgrounds (not accessible due to snow), Union West (due to a high number of hazard trees); Groveland Ranger District – South Fork Campground is closed; Summit Ranger District – Cascade Creek, Eagle Meadow Horse Camp, Herring Creek, Herring Reservoir, Kerrick Horse Camp, Niagara Creek, Niagara OHV, Bennet Juniper, Coyote Meadows Trailhead, Sonora Pass, St. Mary's Pass Trailhead, and Waterhouse Trailhead. Please know that all larger recreation areas may contain smaller sites that are closed due to hazard trees.
For updated forest information, click here.