Update: CHP Shares Cautions With Ebbetts Pass Now Open For Season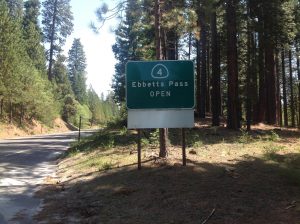 Hwy 4 Ebbetts Pass, Open, May 13, 2016

View Photos
Update at 5:22 p.m.: California Highway Patrol (CHP) San Andreas Unit spokesperson Officer Toby Butzler weighs in on the opening of Ebbetts Pass Friday.
Butzler reports that over the past several days his office received a number of anticipatory calls from folks chomping at the bit for Ebbetts Pass to open. CHP Resident Post Officer D. Ruiz sent a photo at 11:30 a.m., announcing the pass was just opening, which was widely shared on social media.
Now that the pass is open, Officer Butzler advises, "Everyone needs to slow down and not rush up there…remember that it is a very winding, barely two-lane road, and if they are going too fast up there, then we are going to have to respond — to have to tow them out of a ditch or off the side of a mountain." Too, he adds, "Even though it is hot [now], it is still spring and those conditions could change at any time — and if we get a sudden snowstorm, we will probably have to close the gates again."
Sharing another cautionary note, Butzler continues, "Summertime is when we start to see a lot of the motorcycle stuff up there. It is a gorgeous drive and I don't blame people for wanting to especially take their motorcycles up there. But some of those hairpin turns on a big motorcycle can be a little tricky, especially for new riders — it is probably not the first ride you want to take if you bike has been sitting for the past four months." In a good-natured aside, he shares this advice: "You will want to get used to how [your bike] turns again before you come up and try out some of our hairpin turns."
Original Post 12:50 p.m.: Alpine County, CA — Just in time for the weekend Highway 4 Ebbetts Pass opened for traffic just before noon today.
Caltrans officially broke the word from its offices at noon, as spokesperson Skip Allum called Clarke Broadcasting. He shares, that if it seems that Ebbetts Pass was closed longer than usual in recent years, it is because it was. Recounting, Allum states, "We closed it for the winter on November 24th, and it is open May 13 at noon…that marks the longest closure since the 2010-11 season, when Ebbetts was closed from November 22nd until June 7th of 2011."
Beyond the usual clearing of snow, culverts and fallen trees, Allum shares that this season presented two unusual challenges. "We did have…two large boulders that we actually made a Caltrans News Flash video about, to show how we removed those," he says with a chuckle. "One of them weighed about 200 tons, I believe the other one was 100 tons It took about four or five days to remove both of those boulders."
As reported here, Caltrans generally tries to have Ebbetts and Highway 108 Sonora Pass open in time for the Memorial Day holiday. At this point the agency anticipates having the latter pass open, pending conditions, by midweek next week.
Reminding folks to be careful, Allum cautions, "Even though we have had some great weather, weather can change and road conditions can change quickly as a result of that. So we do remind folks when they are traveling at [higher] elevations to be prepared and pack the necessary supplies in their cars — flashlights, water, blankets, et cetera — things like that…to be safe, just in case that anything should change."
Yosemite National Park officials, who state that crews continue working heavily at Highway 120 Tioga Pass, do not have a projected opening date yet but anticipate that they will shortly.